The recent spate of violent incidents that have occurred in various mining communities could pose a serious threat to the stability of the sector if allowed to persist without a robust corrective response, President of the Guyana Gold and Diamond Miners Association (GGDMA) Frederick Mc Wilfred told Stabroek Business in a telephone interview earlier this week.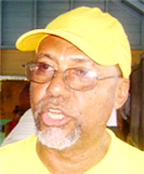 "It's disturbing. We could well be facing a wild west situation," Mc Wilfred said when asked to comment on the latest spate of killings in mining communities.  The GGDMA President also said he believed a culture of violence had become embedded because of the perception that existing law enforcement mechanisms were weak and ineffective. "People very often do not feel that going to the police is an option. There are cases in which incidents occur and where the logistics of involving the police might involve securing transportation to move the police over long distances. In some of those cases people simply do not bother," Mc Wilfred said.
Last year the gold mining sector produced 305.178 ounces of gold.
Asked whether he believed the recent incidents of violence in the sector may be linked to the current high price of gold, Mc Wilfred said he believed it was a shift in operations by armed bandits from the more challenging urban targets to mining camps and persons known to be working in the sector. "It makes sense.
"The mining communities present softer targets because the presence of the law is much less pervasive." According to the GGDMA president, attacks on mining camps are also perpetuated through "moles", individuals who gain employment with mining operations specifically for the purpose of stealing from the operation or providing intelligence for larger bands of criminals.
Mc Wilfred told Stabroek Business that small and medium scale miners were "particularly vulnerable" to criminal attacks since they cannot afford to put in place the necessary security mechanisms. "Those who can be described as large-scale miners are pretty well protected since they invest heavily in security outfits. Security is expensive and adds significantly to the overheads of the smaller miners. Operators with a single dredge and excavator cannot afford security so they must take their chances."
Meanwhile, Mc Wilfred told Stabroek Business he was surprised that criminal attacks targeting miners and mining camps did not occur "more frequently."  The GGDMA president said that in the absence of a reliable formal policing regime in mining communities he had advocated that private firms submit tenders for the provision of security services to the mining community including the manning of checkpoints, escort and courier services and guard duties. Asked whether he felt the solution may lie in issuing more firearms to miners, Mc Wilfred said no.
"A further proliferation of firearms in communities where there are only limited legal restraints has its own implications," Mc Wilfred said.
He said what was needed was more emphasis on "official deterrence". He explained that a more efficient law enforcement infrastructure in mining areas that included "police patrols and surveillance work" could help act as a deterrent to bandits. Mc Wilfred told Stabroek Business that he will be calling for consultations among members of the Hinterland Intelligence Committee, a security-related organ chaired by the commissioner and including representatives of the forestry and mining sectors and other stakeholders in the interior of Guyana. "As far as I am aware the committee has not met for some time now and certainly we in the mining community consider it necessary to raise the issue of criminality in interior areas with that committee."
Around the Web