Even as the New Guyana Marketing Corporation (GMC) continues to lend its support to local producers in an effort to increase the consumption of locally produced foods during the holiday season, efforts to accelerate relationships between manufacturers of agro processed goods and local supermarkets and other outlets will be stepped up in the new year.
New GMC General Manager Nizam Hassan told Stabroek Business in an interview on Wednesday that the company is seeking to encourage the use of traditional foods that are plentiful on the local market during the Christmas season in order to support the efforts of farmers to bring produce to the market. "Citrus is one of the better examples that one can think about. We expect the current plentiful supply to last into the new year and we are focusing on encouraging consumption during the holiday period."
Hassan said that the work of the New GMC seeks to support local producers who cannot always compete with the more costly marketing initiatives undertaken by established business houses.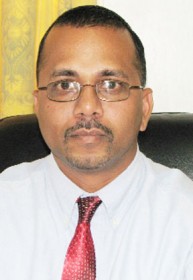 Meanwhile, according to Hassan, work already started by the New GMC to promote the consumption of locally manufactured agro processed commodities will be accelerated during the first quarter of next year. Hassan said that initiatives already in progress to create linkages between retail outlets across the country and local manufacturers will continue as the New GMC seeks to afford agricultural agro processed commodities a higher local profile. "It is not simply a question of advocating yet another 'Grow More Food' campaign. We believe that in some cases what the local producers have to offer is every bit as good as what is imported and we want to help promote those commodities on the local market. Local outlets need to push local products. Many of them are in considerable demand and their absence from the supermarket shelves could result in lost sales," Hassan said.
And according to Hassan, it is not simply a question of creating "a Guyana corner" in supermarkets and placing locally produced goods there. "We would want products that are manufactured locally to be placed right there alongside the imported commodities. We believe that many of them are actually good enough to compete at that level," Hassan said.
Topco juices, manufactured by Demerara Distillers Ltd is one of the better known success stories in the local agro processing sector and according to Hassan efforts by the company to acquire a juicer that would allow for the production of citrus juices are being supported by the Ministry of Agriculture.
Meanwhile, according to Hassan, efforts to increase the volume and variety of Guyana's agro processed goods to the Caribbean continue to see some countries in the region expand their respective lists of "entriable goods" though there are cases in which non-tariff barriers inhibit exports to the region. Hassan named St Lucia as one Caribbean country which had recently expanded its list of goods that can be imported from Guyana, though he pointed out that exports to Trinidad and Tobago sometimes faced non-tariff barriers. Hassan said some of those barriers include labelling stipulations which the companies in the two countries were seeking to work out. According to Hassan while each importing country has a duty to be vigilant in protecting against sub-standard imports, there may be cases in which bureaucratic hindrances may be impeding business. "One suspects that sometimes businesses, together, can find ways of overcoming some of these hurdles without compromising national regulations but that bureaucrats sometimes slow down these processes," Hassan said.
Around the Web