Kenneth de Abreu was a tireless administrator who put his weight behind the development of sport. He was a successful business manager who contributed materially to the expansion of one of the largest conglomerates in the country. He was also deeply committed to community service  as a result his name came to be known in households around the country during the last quarter of the 20th century.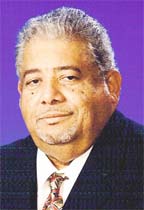 Ken de Abreu's aptitude for community service and his fondness for the sporting life led to an early involvement in a number of sporting and service organisations. He was much sought after for his organisational skills and, invariably, his flair for leadership would elevate him into high positions as director, president or chairman of various institutions.
His special interest in community service grew out of his affiliation to the International Lions Club. From the time of his initiation into the Lions Club of Georgetown in 1973, he easily occupied most of the available senior administrative positions. He chaired several committees and enjoyed a successful and satisfying year as President which earned him his "100 per cent President's Award" and he was named a Melvin Jones Fellow by the Lions Club International Foundation.
His administrative talent was evident as Cabinet Treasurer and Governor of District 60A in 1982-83 and as Council Secretary-Treasurer for Multiple District 60 in 1983-84. As Chairman of the organising committee, he contributed to making the 25th Multiple District 60 Convention an unqualified success when it was held in Guyana in 1985. He was appointed Deputy District Governor in 1985-86, District Chairman for Activities in 1986-87, for International Understanding and Co-operation in 1988-89 and Zone Chairman 2A in 1989-90.  He was elected, deservedly, to the highest office of District Governor 60A at the 30th District Convention held in Georgetown in March 1990. All along, his attendance at several cabinet meetings, eleven district conventions and eleven international conventions enhanced his extensive experience as a Lion.
Ken De Abreu was also well known for his humanitarian work. He was Chairman of the Guyana Red Cross Society for over a dozen consecutive years and was appointed a Life Member. His service was acknowledged by the League of Red Cross Societies which elected him to the Disaster Relief Commission. His concern for the disabled found expression in his election to the chairmanship of the Cheshire Home for Spastic Children and his appointment to the directorate of the Food for the Poor (Guyana) Inc, another charitable non-governmental organisation.
He was a trustee of the Guyana Girl Guides Association and the Uncle Eddie's Home for Senior Citizens. A Roman Catholic, he served as Finance Chairman of the Parish of St Teresa of Lisieux in Campbellville. He also found time to be a commissioner of oaths and justice of the peace and to privately help the elderly and poor.
Another distinctive facet of his public life was his support for sports. De Abreu was a former President of the Guyana Table Tennis Association and was awarded life membership of the Caribbean Table Tennis Federation. He was appointed a member and later chairman of the National Sports Development Council. After the National Sports Commission Act was passed, he was appointed Chairman of the Commission in 1993.  As Chairman, he nourished the hope that a national stadium would be constructed. After the area of 81 hectares (about 200 acres) allocated for the project was reallocated for another purpose and he saw little prospect of his hope being realised, he resigned from the commission in frustration in 1999.
As a sport administrator, he served on the executives of other associations including weightlifting and boxing. Table-tennis and horse-racing, however, were his personal passions.
De Abreu's involvement in public activities was built on the secure foundation of his professional career as general manager of Demico House, a subsidiary of D'Aguiar's Industries and Holdings, now a part of Banks-DIH conglomerate. After he left high school, he had worked at a wide variety of jobs as diverse as accountancy, building and construction.  His exposure to overseas and local management training courses prepared him for a long and successful career in D'Aguiar Bros Ltd which he joined on October 1, 1958. The company was eventually transformed into the present-day Banks-DIH Limited and he remained in its employ for 43 years – two-thirds of his life – until his retirement on March 31, 2001.
The rise of his corporate career coincided with the consolidation of Demico House – which began operations in 1971 – as an important division of the company. De Abreu started working as the supervisor of bars. He then moved into the Audit Department and was later appointed General Manager of Hotels, Bars and Properties. With the merger of Banks Brewery Ltd and D'Aguiar Bros Ltd, the soda factory and the head office were relocated to 'Thirst Park' in Ruimveldt.  The landmark building on Brickdam was renovated and converted to the Demico House Complex. As General Manager, de Abreu enjoyed a fair amount of autonomy which he relished.
The complex was started with a small hotel and a single restaurant with three bars and a liquor store on the premises. The individual enterprises which now constitute the Demico Division increased immensely in number and value to include ten major outlets – including the Idiho Restaurant, Roof Garden, Arawak Steak House, Main Street Qik Serv (formerly Arapaima), Camp Site which houses Krystal Dry Cleaners, the Creole Garden Restaurant and a Processing Centre and the New Amsterdam Qik Serv in Berbice. Together, they are considered today to have become the second largest division of Banks DIH. De Abreu's success at Demico eventually enabled his rise to the position of Director and Assistant Managing Director of Banks DIH Limited in 1989.
Ken De Abreu was an industrious man who was action oriented. Such a man was much in constant demand in the city's commercial community. He was appointed a director of Banks-DIH, director of the Hotel Tower Limited and member on the Air Transport Advisory Board. Despite eschewing overt political identification, he was invited to serve as a member of the Interim Management Committee of the Georgetown Mayor and City Council which at the time, as nowadays, was experiencing severe administrative difficulties.
Kenneth Ignatius Anthony de Abreu, the second of eight children of George and Zilda de Abreu, was born on February 2, 1934 in Georgetown.  He attended the St Mary's Roman Catholic School at that time under the control of the Religious Sisters of Mercy.  He attributed his personal discipline and purposefulness in life to the instruction inculcated by the nuns of the Order. That primary education, he felt, was the bedrock on which a life based on religious values and service to others was founded. He subsequently attended Central High School where he received his secondary education.
Ken de Abreu received three national awards.  The Cacique's Crown of Honour, awarded in 1996, cited his "service of an exceptionally high quality and beyond the normal call of duty in social and community work in the field of sports."  His community service was recognised earlier in the conferral of the Golden Arrow of Achievement and the Medal of Service.
He married thrice. First to Celsa who pre-deceased him. He then married Neisha. His present wife Elizabeth and his twelve children survive him.
Around the Web