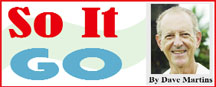 Ideas for 'So It Go' columns come from anywhere and everywhere.
Recently, for example, I met Bernard Fernandes, a musician/teacher, born in Guyana, raised in Trinidad, now based in Canada, and in the course of several email exchanges, he was curious about what would be some of my favourite calypsos.
Going in, I don't care much for music categories (they're contradictory) so what I choose here may not be what the purists call a calypso, but since I have never heard a definition of 'calypso' that can hold scrutiny, I'm not too concerned with the purists. These are just some pieces of Eastern Caribbean music I love; label them as you wish. Also, it's a list that may change tomorrow, depending on my mood, but in completely random order here are some of the songs I treasure.  The criterion here is not what appeals to the public; it's about what appeals to me.
High among my picks, definitely close to the top, is a song by the late Lord Blakie called 'Steelband Clash.' What I love about this song is how artfully Blakie draws the picture of steelband on the road in Trinidad carnival in the 1950s – if you've been there, the song captures the scene perfectly – but even more because he does it with so few words; something only the greats achieve. 'Steelband Clash' is memorable for its joy-of-life depiction of a traumatic scene, and for a brass line that stays in your head from the first time you hear it. When you sing this song you don't want it to end, so in order to extend the sweetness, I've added two of verses of my own. I know Blakie would approve.
Sometimes our writers will draw in close in the work; sometimes, as in Sparrow's 'We Pass That Stage,' the composer (it wasn't always Sparrow) pulls back for an overall position. Waiting to go on stage in the Savannah in Trinidad Carnival around 1971, I heard Sparrow sing this song. It gave me goose bumps.
The impact of the piece is in the lyrics, which come across as a clarion call for Caribbean people to back away from immorality, excess, dishonesty, hypocrisy, etc, because, having grown up as a people, we have passed that stage.  There's a line about us spending the week "smoking dope, but Sunday morning we holier than the Pope." Classic stuff.  Ironically, as much as I thought the song would sweep the Caribbean, it did not, and here we are 40 years later with our jackass behaviour continuing.
(Many of these songs are Trinidadian because that is the home of what Sparrow and Eddy Grant lovingly call "dis ole music." Some folks may not care for that, but so it go.)
Another classic is David Rudder's 'High Mas.'  David is capable of wonderful evocation, and he gets close to perfection in this song about the spirit of carnival. It's a great example of a song where the melody and the lyrics match and complement each with equal power. A few years back, in a programme honouring Caribbean artists, of which I was one, I saw the Jamaican National Dance Theatre Company perform a glorious dance to this song at the Collymore Hall in Barbados. It was a presentation I will never forget, combining David's work with that of Rex Nettleford; two Caribbean giants making one glorious shout.  Parts of 'High Mas' border on the spiritual.
Edwin Yearwood's 'All Aboard' is a killer song that people will play 10 years from now. It was a pivotal work that transported folk music traditions into a 'today' song, and it signalled the shift in Eastern Caribbean music away from the previous long domination by Trinidad.  The song's title, a simple expression, spoke to the regional need for all of us to get on board.
Sparrow is again on my list with a song (I believe it won the Road March) based on an incident where he fought off some thugs in Miramar. 'Ten to One is Murder' is one of the most intensely rhythmic songs you will hear, and its pivotal feature is that the captivating rhythm, enveloping this fairly simple melody, is all drawn from the interplay between and around the lyrics. As in today's Jamaican dance-hall music, the words are drum-rhythm patterns. I remember playing this song for the first time in Toronto the year it came about, and I didn't want to stop. It is pure unadulterated African rhythm – in words.
Part of our genius at music in the Caribbean is the hilarious humourous contortions we come up with. In an ingenious old gem, 'Cat Brain,' the Mighty Spoiler, predating transplants, imagines the consequences of a surgical mix-up, where a woman gets the brain of a cat, and vice versa. An example:
In de middle of the night, trouble in de house
She ransacking de bedroom lookin' for mouse;
And de cat wid she brain, cosy on de bed
Bus'in kiss on top o she husband head.
Spoiler was not strong on melody, but he was a comedic genius with a string of hilarious songs that kaiso lovers would know. 'Cat Brain' is a winner.
The ability to write double-entendre calypso is a particular gift, and Lord Funny has it. His 'Fuh Cane,' a huge hit many years ago, is a double-meaning classic made even more hilarious by Funny's infectious vocal delivery. Like my own 'Sleepy Willie,' it is a flawless achievement of two completely different meanings from one set of lyrics, with each interpretation never departing from its subject.
I would be a hypocrite if I failed to mention two of my own songs I consider boss kaiso.  One is 'Where are your Heroes, Caribbea' – a stinging chastisement about our failure to honour our own. (In this song, I'm actually using 'Caribbea' as the name of the area; poetic licence.) 'Heroes' drew a lot of praise, but, like Sparrow's song, it remains a shout not heeded; we still dump our people.  Just last month, Guyana's 20/20 cricket team, Caribbean champs this year, lost one match here to Trinidad, and people in the stands pelted our players – one match!
The other Dave Martins song I pick is 'Take a Rest' recorded in 2008. It is sometimes hard to build your case air-tight in the three minutes or so you have for a song, but I got close to it in this jab at the West Indies Cricket Board. Last month, a towering black man hugged me on a street in town, saying, "For 'Take a Rest' buddy, take a hug."
Finally in any choice kaiso list, I would place Kitchener's 'Pan in A Minor' which is simply a tour de force. It is Kitch at his absolute best, both for the melodic variation from several themes, and for the genius choice of words to fit that cascading melodic swirl. The recording is pure heaven. Not many people know that although Kitch sang with no problem, he actually spoke with a terrible stammer, but his vocal on this song sounds like the very pan he is eulogizing.
Those are some of what I classify as gems from that earlier era; they don't include songs from today.  That's another subject for another column.
Comments

(A column by Transparency Institute Guyana Inc) On September 10, 2017, Stabroek News published an article containing remarks by Treasurer of the AFC and Minister of Business, Dominic Gaskin; the Minister of State, Joseph Harmon; and the Leader of the Opposition, Bharrat Jagdeo, on the matter of political (campaign) financing legislation.
Since the festival of Christmas commands a pre-eminent position – of observance and celebration – on Guyana's Annual Calendar of National Events, I thought I'd pen a few lines to provoke thought and meditation relevant to the "Real Reason for the Season".

To mark the anniversary of Martin Carter's passing on December 13, 1997, Gemma Robinson looks at Carter's Poems of Succession, published 40 years ago this year.
By Naicelis Rozema-Elkins It is about time, past due in fact, that the problem of sexual assault by teachers in our school system is addressed.

Focus on Guyana's National Budget 2018 represents the twenty-eighth edition of this Ram & McRae annual publication which highlights, reviews and comments on the major issues surrounding and raised in the National Budget.