"Pudding! Come get your pudding!" Claville Thomas calls out to persons as they pass her on the road.  Every night, she stands at the corner of Stabroek and Cornhill Streets with two white buckets which contain black and white pudding, a bottle of 'sour' in her hand. This is the way she has been earning her income for the past ten years.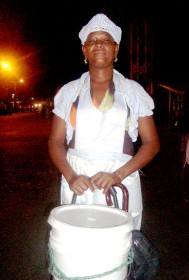 Thomas credits God with leading her down a path whereby she could provide for herself. She related that the former partner with whom she had lived had not been too keen on supporting her financially. However, one day when he gave her $1,000 she decided to buy rice, runners, seasoning and blood – the ingredients of black pudding.  Though she had seen it made many times before, this was the first time that she attempted it herself. At the end of the day, however, she had made $6,000 profit.
Since that day, there has been no looking back.  Pudding has become her business.
Her day starts at 4 am when she begins cooking the rice.  By eight she is in the process of preparing the seasoning and stuffing the runners.  Then she boils them.  She cautions that this is the part where care must be taken, because if the water is too hot, the runners will pop. By this time, it's 11 am – time for her to leave her East Bank home and head to town to sell.
During the day, she chooses prime spots around the Stabroek area where she knows she will get quick sales. As night begins to fall, she takes up her spot on the corner where she sells the remainder of her pudding before she heads home. On Sundays, she also frequents the sea walls.
"Business has been very good, otherwise I would not have done it so long," she said. While there could be obstacles, she admitted, one had to be aggressive to be successful. While members of her family have been in the black-pudding making business for many years, only Thomas and her aunt have made it their full-time occupations. She has regular customers who support her, so she does not worry about who is going to buy from her. She acknowledged the help of her husband and son who assist her in her preparations.
For Thomas, making and selling pudding is just a source of income which will help her achieve her dream of buying a plot of land on which she can do farming. She said that she liked planting, but did not have the capital to invest currently.  While she may achieve that at some time in the future, she was working now towards improving her home.
"I will continue to do this until fate wants me to stop," she said; "this is the path that God has chosen for me… With the public's support and the Father, I will be able to achieve my goals."
Around the Web