Easy-going, independent and hospitable are only some of the words used by Leguan residents to describe themselves.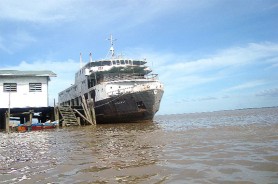 Leguan, one of the few inhabited islands of the Essequibo, sits squarely in the mouth of the river, a relatively short speedboat ride from Parika.
While the population of the villages on the island has fallen in recent times, the people who remain have been making the best of what life has to offer there.
Cash-crop farmer
Standing in his small cash crop farm recently, farmer Lennox Baggot told Stabroek News that most persons on Leguan were self reliant, and that the island was one of few places where "you could leave you doors open and sleep comfortable, day and night."
He said that his community of Amsterdam, which lies on the eastern tip of Leguan, was predominantly a farming area, with several rice and cash-crop farms situated in its environs. In his younger days, he said, he never envisioned being a farmer, but "due to circumstances" he became one.
"I started out planting different things…" he told this newspaper; "I use to plant tomatoes,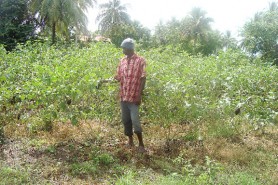 pak-choi, poi [calaloo], boulanger and cassava," but only a few of those "stand up in the soil." He said that as time went by, he observed that boulanger and poi were the only crops which flourished, and as a result he decided to concentrate on planting these alone.
Baggot related that he lost his parents and a sibling when he was young, and as such the need to be independent fuelled his determination to toil in his two acres of farmland daily. He said that a market for his crops was readily available at Leguan, as there were persons on island who purchased his produce in bulk for resale, mostly at the Parika market on the East Bank of the Essequibo River.
He explained that he learned to use chemicals on his own; "I would seek advice from people who know about farming and over time I get to understand my planting methods." Asked whether he seeks assistance from the authorities, he responded that he never had to rely much on help "from outside," but if the need arose he would gladly accept. Baggot has been a farmer for a number of years, and he is one of many on the island who have resorted to taking up this occupation in the absence of jobs.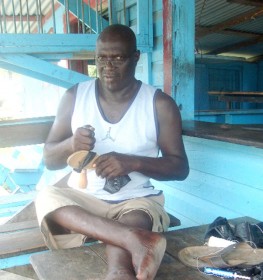 Cobbler
Seated outside his stall at the entrance to Leguan is Derek James, the self proclaimed "only cobbler" on Leguan.
James, who is differently-abled as he was struck by polio as a baby, told Stabroek News during a recent visit that he makes leather shoes, bags and hats for a living. He noted, however, that shoe repair is his main area of expertise, remarking that he started out as a "flat foot… about 20 years ago."
He said that he decided to become a craftsman, since  "I noticed Leguan ain't got anybody fixing shoes."
Born and bred on the island, the 49-year-old James said that early into his career, he decided to put up a notice at his shop, and as time went by he became recognized as the island's cobbler.
Giving his thoughts on life on the island, James noted that the area was "relaxed," adding that the islanders were always looking out for their neighbours. He described the economy as "slow," but he qualified this by saying that there were times when business there moved apace. As far as he personally was concerned, James said that each day customers would approach him to fix their shoes or to design footwear, "so I always have an opportunity to survive."
He described the location of his business at Enterprise, close to the entrance of Leguan Ferry Stelling as "perfect" for business.
Cattle-farmer
While rice-farming is considered the main economic activity of Leguan, cattle-rearing is beginning to take "centre-stage," according to Success resident, Mohammed Ramzan, a rice and cattle farmer.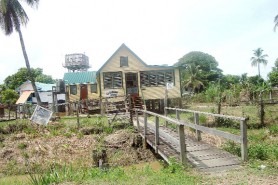 Ramzan told Stabroek News that his rice business had suffered greatly in recent times, with the price for paddy being the main issue. He said that the preparation for the crop, employment of a number of persons to plant paddy, as well as transportation costs had seen him losing.
He went on to say, however, that cattle-rearing had become his main area of focus, and that as many as 50 head of cattle were shipped off the island on a daily basis. They are transported to the nearby Parika market, the Essequibo Coast and Bartica.
Ramzan observed that rearing the animals had its ups and downs, with the availability of a vet being one of the issues affecting farmers. He said that the government-employed vet would travel to the island once a week and while he did an "excellent job," there was need for more vets. He said that if a vet were placed permanently at Leguan, the farmers there would be delighted.
He said that persons travelled to the island to order and purchase cattle, but although the market was available, there was a problem of payment, since cattle farmers would at times have to wait weeks before they were paid.
As regards life on the island, Ramzan too described the islanders as generally "relaxed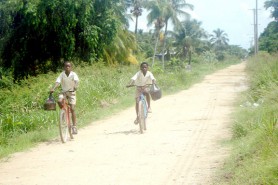 people," although sometimes residents would feel neglected by the authorities. He said that if more focus were placed on the creation of jobs, improved sea defences and better maintenance of roads, "a lot of people would come here just to tour the place."
Tourism potential
Ramzan is not the only islander who thinks highly of Leguan's tourism potential.
Shopkeeper Dularie, who has been vending close to the entrance of the ferry stelling since the early '90s, was of the opinion that there were a number of places on the island which offered scenic views. One she identified was the beach near the village of Canefield on the eastern side of the island.
Each year at Easter time and Emancipation, she said hundreds of persons, many of them non-islanders flocked to the area. She said that with improved infrastructure, many persons would visit places around the island "just to enjoy the scenes."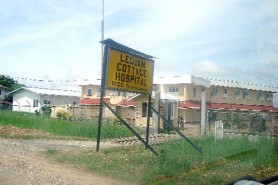 Leguan, which is populated by approximately 5000-10,000 persons, can be accessed by boat from nearby Parika. The speedboat fare to and from the island is $1000, but the unavailability of passengers would at times see the fare climbing to as much as $3000 per person.
At the moment, there are two private hotels on Leguan, but recently one of the businesses temporarily closed its doors, owing to a lack of customers. At the same time, a number of persons who migrated from Leguan to live overseas, have returned to live out their golden years there.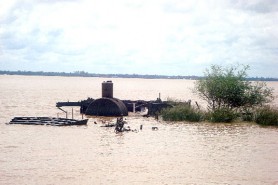 And according to octogenarian, Carla Ambrose, while the island has seen many changes in recent times, "the public will in time see the full potential of Leguan."
Around the Web