As the rains pour, eighty-three year old Ramdeo Janki shelters under her umbrella and waits for her next customer to come.
Janki has been selling plantain chips, fudge, tamarind balls, mango pickle and other items at a small stall by the roadside in Middle Road, La Penitence for the past nineteen years. Her main customers are schoolchildren.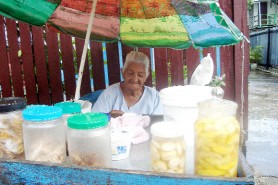 "A long time ago" as she describes it, she used to sell at the Carmel Secondary School, but as she got older the distance between the school and home proved difficult. So during the week on the days she sells, she stays at a relative, and Sundays she spends with her daughter.
"I jus deh trying with this lil thing," she says. This is the way she is able to acquire a little additional income to purchase the items she needs. While she is a pensioner, she said that it was sometimes difficult to get her book. She related how she had checked several locations then was referred to another. She said that since she cannot walk to the locations, she had to take transportation which incurred expense.
"Some days it's good, others you don't get nothing much or anything at all. But I rather do this than stay home," she explained.
"I tell you the truth, ting nah wuk nice," she sadly related, but she continued to do it since she wanted to be independent and remain active in her old age. "If I want anything, I can go and buy it."
Every day she prepares the items she sells. But the money she makes cannot compensate for the raw materials she needs. "A pound of plantain costs $120 then you have to buy oil and kerosene.  It just can't pay," she explained.
Regardless of her challenges, she prefers to continue selling since this is how she occupies herself. "I will continue to do this for as long as I can," she said.  As a schoolgirl comes by to purchase plantain chips, she gets up from her chair to sell her. From that sale she gets $40. Then she assumes her former position – under her umbrella braving the rain… waiting. (Candace Phillips)
Comments
CARACAS/HOUSTON (Reuters) – Venezuela's unraveling socialist government is increasingly turning to ally Russia for the cash and credit it needs to survive – and offering prized state-owned oil assets in return, sources familiar with the negotiations told Reuters.
By Carl Bildt CHICAGO – We are now in the final days of the industrial age.

During Men's Health Week, the man/woman in the street were asked to speak on their lifestyles and what they do to maintain their health or to encourage their significant others to lead healthy lifestyles.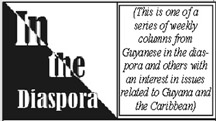 By The Caribbean Voice There are no reliable statistics on the amount of persons engaging in the use of illegal drugs or those described as addicts.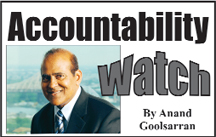 In last week's article, we referred to the two recognized methods of accounting for costs relating to the exploration, development and production of crude oil and natural gas: the "successful efforts" (SE) method and the "full cost" (FC) method.