In Mon Repos, at the junction where Agriculture Road meets the Railway Embankment, behind a makeshift stall with cherries and a few cashews, sits Kowsilla Takechand.
Kowsilla has been selling fruits at this spot for a "long time"; this is all she knows how to do. It is a trade that was passed down by her parents to their children. While her siblings sell 'greens,' she chooses to sell fruits.
"Anything I get I sell," the fifty-five year woman says while trying to fix the large umbrella which shades both her and the fruit from the sun. In the mornings, she goes to the Mahaica Market where she purchases whatever fruit farmers have for sale.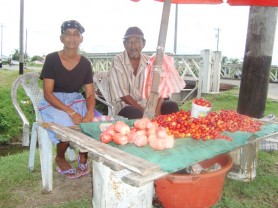 "Sometimes it busy, sometimes it's slow," she said of her business, adding, "But you can't give up." She does not have a particular clientele, and just sells to those persons who traverse the interlocking roadways.
Minutes into the interview, a man comes up; it's her husband Heralall. At 67, he has cataract in one of his eyes which he has been told is inoperable. He was once a tailor; now even his wife's clothing has to be taken to another tailor for alterations.
"I don't know wah gun happen," he says sadly, "She got to support me and she self."  He tried to apply for public assistance but was unsuccessful, because he does not have an identification card which was stolen from their home some time ago.
"Sometimes it really hard with all the expenses," Kowsilla says while her husband interjects, "but if she nah get assistance from me, it's a waste of time."
"Me supposed to give she money when the month come – now I can't," he says, noting that although they have children it would be unfair to depend on them since they have their own families.
While they sell at Mon Repos, the couple reside in Hope, a village further up the East Coast. Kowsilla said that she takes two buses to get home which is normally by 9 pm, after which she still has to prepare dinner. If she's lucky, sometimes she is able to get a taxi: "The waiting is very frustrating and there are times when you're hungry."
She chooses to continue selling at her current location, because she grew up in the community and is well known there. Kowsilla says, "We nah get income from anywhere so I have to continue selling here for as long as I can," while Heralall adds, "We gun try; dat's all we can do."  (Candace Phillips)
Comments

By Mark Leonard LONDON – Over the last few weeks, media around the world have been saturated with stories about how technology is destroying politics.
CARACAS/HOUSTON (Reuters) – Venezuela's unraveling socialist government is increasingly turning to ally Russia for the cash and credit it needs to survive – and offering prized state-owned oil assets in return, sources familiar with the negotiations told Reuters.
By Carl Bildt CHICAGO – We are now in the final days of the industrial age.

During Men's Health Week, the man/woman in the street were asked to speak on their lifestyles and what they do to maintain their health or to encourage their significant others to lead healthy lifestyles.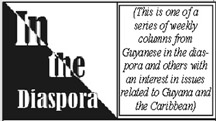 By The Caribbean Voice There are no reliable statistics on the amount of persons engaging in the use of illegal drugs or those described as addicts.