On a hot sunny day nothing beats the heat like a bottle of cold refreshing sugarcane juice supplied by Abby Hall and Roy DeFlorimonte.
The sugarcane juice-making couple on most days can be found on the corner of Dennis Street at the bridge leading into Cummings Lodge. According to Roy, "We do it in and out to catch ma hand when I ain't get wuk."
A mason by profession, Roy says that he would gather cane from persons who grow it in their yards, and at their home he would extract the juice by hand using an angle-iron squeezer.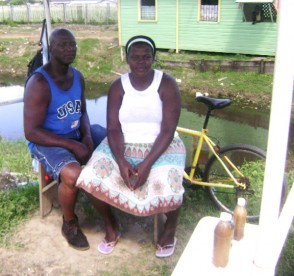 The juice is then bottled in recycled plastic bottles ranging from a chubby bottle to a 24 ounce bottle and then refrigerated.
When it is time to sell, the couple erect a small tent to shade themselves from the sun and pack a cooler and ply their trade.
Abby who sells the juice most days says that the little profit helps the household.
With two children to take care of and the holiday season in full swing, the pair said that the money is an added bonus that is much appreciated. "Whateva small way you mek do, because it's better than nothing," says Roy.
However Roy explained that they are not permanent cane-juice sellers. How often they are out "catching a lil hand" depends on the availability of sugarcane. If they have no cane they can't make juice to sell. And if Roy does find work as a mason then they don't sell cane juice. Bad weather is also a contributing factor.
But Roy is hopeful to take up the business full time one day. Once they can afford a mill to grind the cane to extract the juice then a fresh glass of sweet cane juice will be for sale. For now if you are passing through Dennis Street, Sophia you are more likely to find Abby or Roy or both of them shaded under a tent with a cooler and a bottle of cold cane juice to help beat the heat.
Around the Web