It's the holidays and many Guyanese will be waking up on Christmas morning to the smell of pepperpot and fresh bread. There will probably be the unwrapping of gifts and a hearty lunch, and time spent with family and friends.
But not everyone in this country is Guyanese, so Stabroek News asked a few Brazilians who are resident here how they will be passing  Christmas.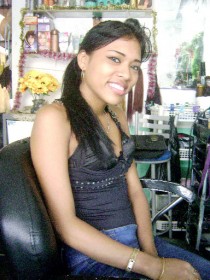 For hairstylist Loridiane Maria, her job keeps her very busy on Christmas Eve. Although this will be her fifth Christmas here in Guyana Maria says Christmas back home in Manaus, Brazil is "very good." "I like Christmas," she admits.
Maria says that at Christmas time in Guyana she and her mother would put up decorations, "cook plenty" food and spend the day with family. They will prepare Brazilian dishes.
As for Silvania Severa, Christmas celebrations begin on her birthday which is on Christmas Eve. Severa who operates a restaurant under the Regent Street Guesthouse said that this is her first Christmas in Guyana.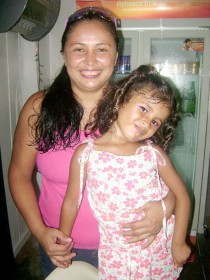 Here with her daughter, Severa said that Christmas back home in Brazil included cooking up a lot of food such as cake, beef, Pondin (something similar to cake), macaroni, fruits and salad. She added that she did not know what to expect for Christmas here in Guyana, but she would be passing the day with family and friends celebrating her birthday. Christmas started on Christmas Eve, she said.
Meanwhile Brazilian miner Luiz Vieira De Lima said he usually spends Christmas in the interior. He has been living in Guyana for over 14 years. If he is in the interior on Christmas Day, there would be a small get together in the camp, and they would cook.
Back home he said that Christmas was a time of lots of food and celebrations. Decorations and fairy lights would be brought out and hung and there was a variety of food including fish, beef and pork. While he says that Christmas here is good, "it is bigger in Brazil." He compared Christmas in Brazil to a "public party."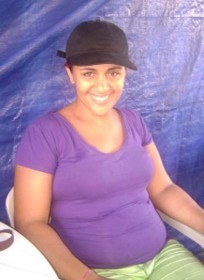 And finally, newly wed Selma Vieira says this will be her first Christmas here in Guyana and she is looking forward to it with much enthusiasm.  She says she plans to spend the time quietly with her daughter and husband. Christmas back home for Vieira would usually involve laying out a long table with lots of food and fruits which are enjoyed by friends and family.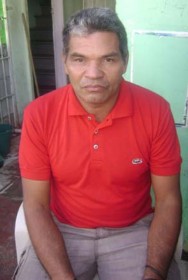 Around the Web