I do hope that you will all have a joyous and blessed Christmas Day.  You will no doubt be suffering from too much good food and a lot to drink during this wonderful time of year.
Just as a yachtsman is never satisfied with the boat he has but always wants one a few feet longer, so it is with gardeners.  I am no exception when it comes to my garden. What I have has never really been large enough. Anyone with half a brain is going to do a little research on the plants he or she wishes to grow.  How tall will they get? How large are they likely to spread?  Whether they can stand full sun or only partial sun?  Whether they need copious amounts of water or only a little to survive comfortably? Questions that gardeners the world over ask all the time.   The answer to them means looking carefully through catalogues and reference books, and talking to friends, and above all just using your eyes.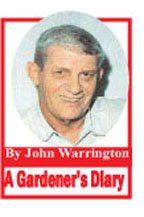 With a small garden you have to be ruthless and harden your heart when deciding what to plant, for it is always a matter not of what you could do with, but what you cannot do without. Many are the times when I have seen mistakes made on the grand scale, and a giant has been planted when a pygmy would have been better.  I have done it myself. In the end it is heartbreaking to have to dump a splendid plant because it has become too large for the site and because you haven't done your homework properly.  Dump the excess baggage before you even plant it.  A little research will help you avoid this type of error – but maybe not.
If you do get to the stage where you have to remove a well-established plant, make a careful note of plants growing nearby which might have been influenced by its shade, by the dryness it gave round about it, or by the protection it gave from the wind.  You see, by removing one large one you might end up having to make special arrangements for other plants which have become dependent upon it.  Otherwise they may just curl up and die.  In the end therefore you are better not making the mistake in the first place.
I don't know whether you have come across trees which have been planted in the ground and done extremely well for a year or so, and then quite suddenly started showing signs of distress for no apparent reason.  Well it is a common enough happening with trees which have started off their lives in pots and grown very well up to and including a period of time after planting.
One of the very important things that has to be done when planting a pot-grown tree is to tease out the roots from the root ball.  You will have seen that the root ball of a pot-grown plant has a mass of roots all growing tightly together.  These roots must be teased apart before planting them in the garden soil, otherwise they will in effect strangle themselves as they swell and grow round themselves. They must be gently (and in some case not so gently) separated so that they can be spread out and have a chance to grow out into the surrounding soil – not into each other.  This may cause a little damage, but it is not half the damage that would be done if they were left alone.  Use a piece of pointed cane (or a pencil) to work the roots loose. Pour good compost round the roots when you have done all this and firm it. I always make sure that the compost has a good moisture content before this is done.  Anyway, it is no bad thing for the plants to receive a good watering afterward to settle them into their new home.  Insert a stake into the ground before planting so that you avoid more root damage.
Until next week when it will be the beginning of a New Year may your God go with you wherever you may be.
Around the Web