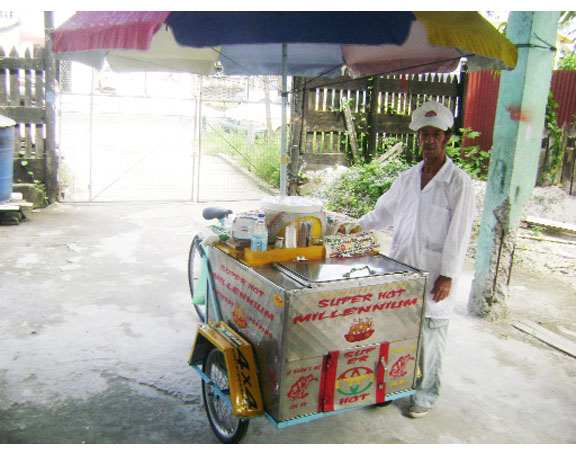 "As long as God give me help and strength I'm gonna ride my bike," were the words of a hot dog vendor who has been plying his trade for 15 years; "I like it."
Fifty-nine-year old Bruce Berbner, known as 'Hot Dog Man' or 'Senor,' says he took up the job while he was living in Venezuela, and when he returned to Guyana in 1995 he continued hot-dog vending and has been loving it ever since.
On a hot Thursday morning, Berbner had already sold all 90 of the dogs he said he packs to carry on the road every day. Leaving his home at a quarter to six, Berbner said he rides his mobile cart until his hot dogs are sold out. And on that day all were gone by a quarter to ten.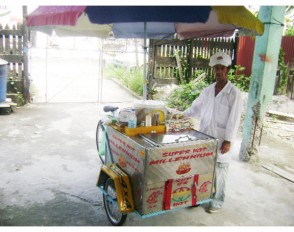 Back at his Garnett Street home, Berbner recalled how he first got into the business. Originally a qualified optical lab technician, he traded that job for life on the high seas where he travelled to 42 countries.
Surviving hurricanes and sunken ships, Berbner said that he migrated to Venezuela in 1985 where he worked as a carpenter. When work became difficult, he took up hot-dog vending with a friend, and then eventually did it alone.
He then built his own mobile vending machine which has a heating compartment that keeps the bread warm and the sausages bathing in a seasoned broth as well as bases for the sauces, including his special garlic sauce blend, and a cooler.
A well organised and well-kept set up, Berbner ensures that everything is hygienic. He even has towels to wipe his hands on when he handles money, he said. "I like it. It's nice; as a matter of fact all my life I like cooking."
When he moved back to Guyana, Berbner brought his customised hot-dog vending cart, but business was very slow. "At first it was very difficult. I started out with 50 hot dogs and all day I only sold 12 hot dogs."
"But as the days go by and people get to know you, they try it…" And they have never stopped since. Berbner said he usually travelled out of Garnett Street onto Vlissengen Road, then to North Road where he would stop at the Bourda Market, and then on to Regent Street.
If "business was slow," he said, he would park the cart in front of the CCS store on Camp and Regent Streets. If his hot dogs were not sold out by then, he would travel up Robb Street where the rest of his hot dogs would be sold. Before midday, Berbner calls it a day. These days he no longer returns home with left-overs.
After 15 years on the streets selling his hot dogs, Berbner has collected unforgettable memories: "The most horrible experience was when Blackie carried out that robbery on America Street."
The memory will forever live with him since "Blackie was standing right next to me hey," and he pointed to the bicycle attached to his cart.
"I was preparing a hot dog. I was about to put ketchup on the hot dog when the first bullet fire," Berbner recalled. He was standing at the side of his cart while at the rear where the bicycle is, 'Blackie' pulled out his machine gun and unloaded a barrage of shots.
When the gunfire started, "I was lying flat on ground," Berbner said. When he decided to risk a peep, he made eye contact with the shooter: "I do suh [pulled hat in his face] to show he, me aint see he."
During the exchange one person was injured. Berbner says that the man that was shot was also standing next to his cart and blood splatter covered it. "I was not scared. I'm not scared of anything," Berbner said after recounting the incident.
His trials at sea, which included surviving after the ship he was on sunk during Hurricane David in the '70s out in the Gulf of Mexico, prepared him for anything, Berbner said.
The encounter with 'Blackie' did not deter him from vending and Berbner said he would continue the trade until he could no longer ride.
Around the Web