The village of Plaisance, situated between Better Hope and Goedverwagting on the East Coast Demerara was purchased by 65 newly freed African slaves in the immediate post emancipation period for the princely sum of $39,000.00. Cattle farmer AJ Waterbodt received payment in coins transported to his residence in wheelbarrows.  Victoria was the first of several predominantly African villages purchased by freed slaves with their savings after 1st August, 1838.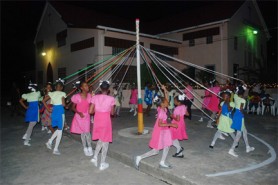 The history of Plaisance, its people, growth and its multiple challenges, is chronicled in a recently released book, "PLAISANCE – From Emancipation to Independence and Beyond" authored by Beryl 'Bobby' Adams-Haynes. The research that preceded the publication of Mrs Haynes' book took several years of painstaking archival research, consultations with current and former residents of the village and historians. The end result is a highly readable 144-page publication that benefitted from an uncharacteristically well-attended book launch in June in the compound of St Paul's Church, Plaisance.
The book is a commendable catalogue of several of the outstanding sons and daughters of the village, people whose lives and efforts helped to shape the community and whom, in many cases, went on to make further signal contributions both at home and abroad. The contributions and achievements of pioneering international jurist and advocate Justice John Theophilus Clarke, CCH, prominent businessmen from the early 1900's like Abdool Habib, Joseph Sadeo Persaud, Theophilus Baynes, Stanley Agard, and the "Village Matriarch" Princess Edwina Andries Noble, after whom one of the streets is named, are highlighted in the book.  From a more recent era, the biographical sketches acknowledge internationally renowned Guyanese musician Eddy Grant, Caribbean Jurist Desiree Bernard, Dr Emran Ali, Dr Denis Martin Benn, Dr Laurence Clairmont Clarke (who edited the book) and Attorney at Law, politician and sports administrator, Bernard De Santos.  All these are recognized and lauded for their contributions to Plaisance, Guyana and in some cases the wider international community.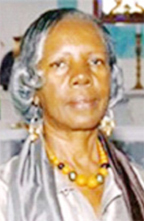 Adams-Haynes' book also paints a simple but vivid picture of yesteryear's quality of life in a village that nurtured so many sons and daughters of distinction. Politicians Clinton Collymore, and Rabbian Ali-Khan, public servants Sydney Bunbury and Roy Adams, medical professionals Linda Worrell-Pompey and Clarence Bazil, and sports champions Gem Barrow, Basil Bradshaw and Wayne Braithwaite  are just a few of the many 'gems' of the village  acknowledged by Haynes-Adams.
In sum, the book is a labour of love, a fitting gift from the author to the community that nurtured her and which, moreover, rarely ever gets a positive mention in the mainstream media. Indeed, Haynes-Adams' accomplishment is rendered all the more meaningful by the fact that the proceeds from the publication are being donated to renovating the Plaisance/Sparendam Friendship Society building which, when completed, will house a library, a media resource centre and will also serve as a venue for cultural performances.   The first five hundred copies of the book are almost sold out and a re-print has already been ordered.
Beryl says that she insisted on "a quality product" since the book is meant "to be kept and handed down."  The retired teacher says she intends to go on a 'reading tour' in schools around the  village in an effort to raise "the historical awareness" of the children..  "This book should be widely read in schools and used by parents in the village to teach their children about the history of their community and the hard work that molded it," she says. What she wants above all else is that the youths of the village draw inspiration and encouragement from the people of distinction who began their lives in Plaisance.
"I won't say that these prominent people evolved from circumstances similar to what exists today because even though life was not a bed of roses in the old days, the community was one, people were kind and respectful and never hesitated to share what they had to make someone else's life better," Beryl says.  She concedes that the quality of life in the village has deteriorated and that young people seem to be at a crossroads.  "Education has declined, people appear   dejected and too many children are not going to school," she laments. "Children have no sense of the history in our community, but all this, I suppose, is the result of poverty."
A humanitarian at heart, Beryl is a gifted community organizer. After spending 34 years in the United Kingdom, 32 of which were spent in the field of education, she re-migrated to Guyana several years ago, In 1989, five years before she returned home for good, Beryl was selected along with three of her peers in Britain to participate in a teacher exchange programme initiated by the Guyana High Commission in London.  Each of the four teachers was assigned to a community and it was by no coincidence that she ended up in Plaisance. Her return to Guyana facilitated the 'reconnect' with her parents and with the families who had helped and encouraged her to pursue her dreams a quarter of a century earlier. By 1989, she had already assumed the position of Director of and off-site Special School for troubled third formers in South West London and was tutoring them in several disciplines. Returning home was an 'eye-opener' for this specialist educator.  She found Guyana "going through tough economic times".  The level of education, she says, had declined, the village she had left was now seriously "run down" and lacking in essential infrastructure and villagers had stopped producing the food that was once offered for sale at the Plaisance Market. Worse, the village had become stricken with a high level of HIV/AIDS and drug use had become prevalent.   There was a worrisome level of HIV/AIDS, declining moral standards and increased use of drugs. Young people were very unsure of where they should go while others were trying hard to "fulfill their dreams".  She realized very early that there was a lot of work and a lot of learning to be done.
This was the year when she found out that Plaisance was one of several villages on the East Coast to have been bought by freed slaves with wheelbarrows full of jingling coins.  This was also the year when she took her first good look at the monument located at Zoar Congregational Church which lists the names of all 65 families who had pooled their savings in 1842 and purchased 505 acres of land comprising Plantation Cotton, (Plaisance Village).  She realized then that she too was lacking in any serious knowledge of the history of African slavery and sought to remedy that shortcoming by commencing the compilation and documenting of a catalogue of people and events in Plaisance; it was for her own education and to ensure that the villagers had access an account of their history.
Beryl returned to London after completing the year-long teacher exchange programme and immediately began the process of research to piece together a credible history of her village.  She established contact with everyone whom she had been led to during her initial enquiries and these included people in Guyana, Africa and parts of the Caribbean. In England she secured access to colonial records which allowed her to 'piece together' the beginnings of the history of Plaisance Village from 1830 through to 1st August, 1838.  While the full render continues up to Independence, 1966, some of personalities mentioned therein have made much more recent national contributions.
The book project gained momentum when she returned to Guyana in 1994 and continued her  research at  the national archives, library and local village office.  "The information (I have) acquired for this pioneering effort was at times difficult to access, but with special help from archivists, librarians, relatives and friends, it was possible to find my way to a reasonably comfortable level," Beryl wrote in the book's Foreword. She acknowledges the unstinting support with historical material and editorial assistance from Dr Laurence Clarke, a distinguished son of the village currently serving as a World Bank Director in Africa.
The work was finally completed in 2009 and went to print in May 2010 with sponsorship from Guyanese businessmen with roots in Plaisance.  Among the businessmen who provided sponsorship were Eddy Grant, Dennis Dias, Ian Haynes, Ivor, Franklin and Leslie Bunbury and Rawlston and Carlos Adams.
"You can easily say that this epic has to continue," Beryl says. She belie that there has been "a reawakening of sorts" happening in Plaisance and wants educationists, community groups and individuals to continue research beyond her own initial effort.  Meanwhile, Beryl continues to work with the Dorcas Society, an arm of the Anglican Church, and the community-based Day Care facility she founded in the 1990's.
"It is an uphill task to reorient people's minds to carve a positive path away from accustomed behaviours," Beryl says. She is however, proud that the village has maintained the May Fair tradition through the years. The season of emancipation    is also important to the people of Plaisance. It is a season of reflection, education contemplation, cultural programmes, entertainment and clean-up campaigns around the village.,
This year the activities continue on to the 21st August culminating with a Day of Sports.
(Mrs. Beryl Adams-Haynes could be contacted for copies of "Plaisance – From Emancipation to Independence" through the Dorcas Society and the Village Council office).
Some notable facts about Plaisance
Plaisance Village was owned in 1832 by A J Watershodt who ran a cattle farm.
The village, like most others on the upper East Coast corridor, has been susceptible to inundation during rainy seasons and from the Atlantic Ocean since the days of colonial rule.  This book records major flood disasters in 1847, 1849, 1855 and 1934.
Plaisance was officially declared a village in November 1892.
Churches have played major roles in village life since the era of slavery.  Among the churches that have been in existence since the 1830's are St Paul's Anglican, Zoar Congregational, St John's RC, Brethren Church, Zion, Church of Christ and the Seventh Day Adventist churches.
Plaisance and Sparendaam districts were amalgamated in 1952 and a year later, then Premier Cheddi Jagan dissolved the merger.
Plaisance first began to receive electricity from the national grid in 1955.
The first transported piece of land in Plaisance is at Lot 53 Prince William St in the name of Andries.
Plaisance is a French word that means 'pleasure' or 'delight'.  The name was given to the village in the early 1800's by the then French owners who grew cotton.  The place was referred to as Plantation Cotton.
Around the Web