One swallow decidedly does not make a summer and we must be mindful that what, for the West Indies, was a commendable outcome to the just concluded first Test match against Sri Lanka does not engender a misplaced sense of euphoria. These days, however, good things rarely ever happen for Caribbean cricket and for that reason, if none other, we can be forgiven for allowing ourselves a generous measure of applause. The Galle encounter ought to be remembered for many reasons, chief among which is the fact that the relatively inexperienced but fiercely 'fired up' Caribbean side competed at every stage of the match and but for the persistent interruption by the rains, the form book may well have been stood on its head. That, however, was not to be and we must wait and see  how they perform in the second Test which promises to be a much more testing encounter on a more spin-friendly pitch against the Mendes menace.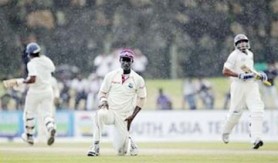 We must, however, dwell for a while on the first Test encounter because of the many lessons to be learnt from the encounter. If Darren Sammy would not have relished a duck on his first outing as captain, his captaincy appeared sufficiently authoritative to suggest that he may yet succeed in motivating a team which has appeared more than a trifle out of sorts in recent years.
It will be recalled that Shivnarine Chanderpaul's amazing run of form that took him to the top of the ICC's Test batting ratings begun after he had been relieved of the responsibilities of captaincy. If the same does happen for Chris Gayle that could serve not only to end a pattern of the team posting far too few runs to win matches, it could also significantly motivate an inexperienced bowling side which, more often than not, will probably not find it easy against a team with the batting prowess which Sri Lanka can boast. If Chris Gayle can add a greater measure of consistency to his phenomenal batting prowess, no batsman in the world can match his thoroughly destructive ruthlessness. His 333 at Galle was one of those rare moments in Test cricket which you can do more than stand and applaud. That quality of entertainment can help change the very face of Test cricket.
Gayle's epic effort served both to underscore a talent that is yet to be displayed with sufficient consistency and, perhaps, to detract from the overall performance of the team. That having been said you cannot downplay the highest ever score by a West Indian batsman on foreign soil, particularly in circumstances where, more often than not, cricket, these days, gives Caribbean people little to shout about. A triple century is no mean feat in Test cricket and Gayle's triple ton comes at a time when he was facing increasing criticism for failing to transform his devastating talent and sheer savagery into runs. Cricket may be a team game but the former West Indies captain's innings would have been as much for himself as for his team. It has catapulted him into the top ten ranking among batsmen and, we hope, refocused his career in the wake of his loss of the captaincy.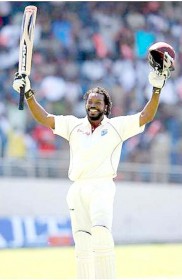 Gayle may have shone brilliantly but the moment belongs to Darren Sammy. He travelled to Sri Lanka on trial, and while he would have been loathe to admit it,perhaps even with some trepidation. Sri Lanka is a team with a reputation for ruthlessness and even on a relatively flat wicket, an absence of application on the part of the Caribbean team could have seen Sammy's inexperienced side crushed inside three or four days. The difference in Galle was that the team competed. You could tell that each member of the side buckled down and gave of their best. Half centuries by Darren Bravo and Adrian Barath bespoke batsmen who are prepared to fight to help the West Indies overcome the familiar humiliation of spectacular batting collapses. Shane Shillingford, despite what now appears to be difficulties with his action had an outstanding game and our quickies (and) bent their backs and bowled their hearts out, sending unmistakable signals to Sri Lanka that this time we were not about to simply roll over and die.
Long before the start of the first Test Otis Gibson spoke about the attitude of the Caribbean side. He alluded to a sense of professionalism, discipline and a preparedness to work hard which has not always been a feature of Caribbean cricket. Setting aside the performance of the team the outcome of the first Test may well have vindicated Gibson's emphasis on fitness and focus given his knowledge that we are somewhat short on experience.
The real value of Chris Gayle's record-breaking innings – setting aside what it does for his confidence, his world ranking and the restoration of faith in him among his various dubious supporters – is that it would have served as an inspiration to the entire team, a standard to emulate.
We must, however, view the team's performance at Galle in the context of its impact on their conviction that they can, after all, compete with Sri Lanka. It has become part of a pattern of West Indian performances, that highly praiseworthy efforts are followed immediately by woefully mediocre ones. This is where their collective self belief, their resolve and, at the individual level, their determination to make separate valuable contributions in a collective effort, come in. And based on the leadership qualities demonstrated by captain Sammy at Galle the team must stand firmly behind him in what will probably be an even more testing period ahead.
Around the Web