…as gunmen attack Safraz's Bar
A waitress was shot dead last night as gunmen went on a five-minute rampage at Safraz's Bar and Restaurant, injuring three other persons.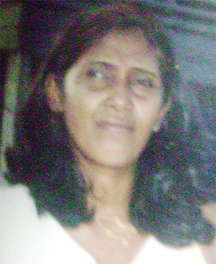 Kulmattie Singh, 35, of Lot 224 Second Field, North East Cummings Lodge, East Coast Demerara sustained a gunshot wound to the head. She was pronounced dead on arrival at the Georgetown Public Hospital (GPH) at about 9.30pm; 15 minutes after the brazen attack.
The bar is located at Lamaha and David streets, Kitty and is one of the city's popular nighttime hang out spots. At about 9.15 pm three gunmen stormed the bar, surprising patrons and launching a brutal attack. Patrons were stripped of their valuables and the bar owner relieved of an undisclosed quantity of cash.
Jason Montgomery, an Australian national, was the first to be shot. Singh, who was out in the open taking orders at the time, was the second to be hit; she was shot to the head and reports say she died instantly.
Another patron, who was yet to be identified up to late last night, was also shot while a third person, beaten to the head by one of the attackers, was rushed to a private city hospital.  Stabroek News could not confirm the condition of the three injured persons at press time.
Johnny Ramdass, a 47-year-old businessman, said he was sitting at his table when the three men stormed into the bar. One of the gunmen, he said, went to the counter where a scuffle ensued between him and Montgomery.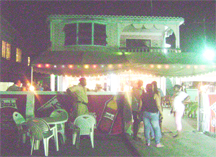 "I can't tell you exactly what happen up front there," a shaken Ramdass said last night, "but all I see is that the two of them been scuffling and all I hear is a gunshot."
One of the three attackers, Ramdass recalled, approached his table, pointed the gun right at him and demanded that he hand over all his valuables.
"I just put up my hand and tell him take everything I got…that gun been right in my face…he went away with my jewellery, cellular phone and money," Ramdass said.
Ramdass later revealed that a call was made to his cellular phone and the attackers answered.
"We call my phone," Ramdass related to police officer on scene, "and they [the attackers] answer and I could hear them arguing in the background."
The man said he was aware of two gunshots being fired and didn't manage to notice much else in the confusion that ensued.
"I am conscious that I heard two gunshots but I can't tell you how many more they fire after that because is like I went into shock or something," Ramdass said.
When Stabroek News arrived at Safraz's Bar and Restaurant at about 9.30 last night a small group of persons had gathered outside and there was heavy police presence. The bar's owner, when approached, refused to comment.
Armed police officers stood at the bar's David Street entrance but the ranks needed to process the crime scene were yet to arrive. Spent shells could be seen on the ground.
Meanwhile, Singh's relatives had just learnt of her demise when this newspaper visited her Cummings Lodge home shortly after 10.30 pm.
The woman, a single mother of four, had been working at the bar for about five months.
Her oldest child is 18 while the youngest is just over a year. Singh's mother was inconsolable and told Stabroek News she just couldn't believe her daughter is dead.
Other relatives who were summoned to GPH by police said that they were not able to see Singh's body. However, they said she has been identified by a colleague.
The shooting at Safraz's bar was the second to hit Lamaha Street last night.
Just over an hour before the bar shooting two men attacked and robbed Michelle Pile of jewellery and other valuables as she stood talking to a friend on Lamaha Street.
Pile, 37, of South Sophia was rushed to GPH after sustaining a gunshot wound to the left thigh.
Police sources have since told this newspaper that there is nothing to suggest that the two incidents are related.
Around the Web