It gets dark early in the South Rupununi and for many people the darkness signals bedtime. Most cannot afford the rechargeable solar-powered lights or the small generators that provide light to some homes.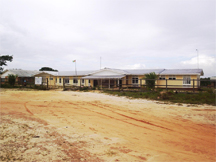 In Aishalton, a generator rumbles to life and for three hours lights glow at the secondary school, the police station and the district hospital. The time, from 6 pm to 9 pm is the only period when the buildings receive electricity. After that the darkness takes over, sometimes pierced by flickering candlelight.
Isolated and calm, the village seems peaceful. But sometimes at the hospital, bobbing flashlights and candles signal an emergency. After 9 pm, these are the only sources of light. It is not enough, residents and hospital employees say. Understaffed and offering only the minimum services, the issue with electricity is one of several problems being experienced by the hospital. With a staff of 18 and serving over seven villages located dozens of miles apart, the institution offers only the barest services and seems a hospital in name only.
Ever since it was established in 1982, there has only been one period – over two decades ago -when there was a resident doctor at the hospital, staff who spoke with Stabroek News said. They asked not to be identified because of public service rules prohibiting them from speaking with the media. With a number of problems facing the institution–the only one in the South Rupununi, Region Nine–it seems to be forgotten. "We need the authorities to come and see us…to look into staff problems," several employees said.
Electricity or, rather, the lack thereof is one of the challenges. A generator belonging to the region provides the nightly three hours of power but after it is shut off, any case including emergencies have to be looked at with the aid of flashlights and candles. It has been this way since 2008 and this is not sufficient, employees said. Machines like an x-ray and electric microscopes stand silently and cannot be operated due to the limited power. "They are just there as a white elephant," said one staff member.
Previously the hospital utilised a generator provided by the non-governmental organisation, Remote Area Medical (RAM) but this has been inoperable for some time. Last year the staff undertook fundraising activities to pay a technician to visit and examine the machine and a part was discovered missing. The piece has not been replaced as yet.
The sweltering heat of the Rupununi sun keeps most people indoors at midday but it is this which powers the small solar pump that supplies the hospital with water. Had the pump been bigger it would have been able to supply water throughout the hospital but its size limits the amount and water is piped only to one tank. The hospital staff then has to use various containers to carry the water to the various parts of the building to perform their duties. A few months ago, a windmill pumped water to all parts of the hospital but it was shut down for reasons not explained. The solar pump was then installed but it is not powerful enough to supply the entire hospital network. An attempt had been made to dig a deeper well, this newspaper was told, but it was never completed.
There are problems with lack of water at times, particularly when the skies are overcast and the pump cannot work. Verbal complaints about this have been made to regional authorities, the employees said. They recounted an incident when a pregnant woman was admitted to the hospital, but there was no water. Now, they say, even the buckets are gone and they use pitchers. They have requested buckets but according to them even "simple items, small items we are not able to get."
With villages scattered dozens of miles apart, connected only by rough trails, it is not easy to get to the hospital. It is also hard to get patients to the better-equipped hospital at Lethem. "We are in dire need of a vehicle," said one man. For several years, the authorities had promised to allocate one for the hospital. "Promises, that's all we are getting," he said. In the remote area, quick transportation to the hospital at Lethem can sometimes be a matter of life and death. When this newspaper visited the hospital last week, a patient had been waiting three days for transportation to Lethem. "We can't get even the regional vehicle to come for him even though we have been reporting every day," one employee said.
Sometimes there are several patients to refer to Lethem but hiring vehicles is expensive and getting payment from the regional authorities is hard. When a tree fell and killed two men and injured another at Marudi in November, the hospital was given approval to hire a vehicle to transport the injured man to Lethem. However, once at Lethem, when the driver went to collect payment it was "a different story," this newspaper was informed. Up to earlier this month, he had not been paid and according to the staff, vehicle owners have long been reluctant to undertake such jobs because of the difficulties in getting payment. "I don't think we will ever get another vehicle to hire," said one employee. Additionally, returning to the communities is often difficult and four pregnant women who were considered 'high risk' and transferred to Lethem in December are yet to return.
Staffing is inadequate too. With no doctor, patients have to be looked at by a medic and three nurses. The hospital can only deal with the simple cases and the more complicated ones have to be referred to Lethem or Georgetown. An example cited was while there is the x-ray machine, because of the limited electricity; only simple fractures can be dealt with. Residents said too that there has been no laundress for over three years, ever since the previous one retired. "It puts pressure on the ward maid. Sometimes she is off and the linens pile up," said one employee.
They said that letters were written to the regional administration and a promise was made that a laundress would have been employed but no one has been appointed. At this remote hospital, about 20 to 40 'out-patients' are seen on a daily basis while about 20 are admitted monthly.
Meanwhile, residents said that the nurses' hostel was renovated but never commissioned and there is no furniture.
A building to house a doctor was built in 2007 but never commissioned and is unfurnished, this newspaper was told.
With no running water, the toilets and baths at these buildings are not functioning either. "All this we tell the regional administration," said one employee. This newspaper understands that these were detailed in quarterly reports. But, there has been no response and according to residents, neither the Regional Executive Officer nor the Regional Health Officer has ever visited the hospital.
Concern was also expressed over the diet supplied to patients. Stabroek News was told that in the latter part of 2008, a report was made that the staff were cooking and selling food and eating at the hospital's kitchen.
The regional administration ordered that cooking be stopped at the hospital and a caterer was retained. According to employees, the meals prepared are not appropriate for patient's illness and their dietary requirements. They noted too that for the past three months, the caterer has not been paid and has threatened to stop providing the service.
It is something the staff are only too aware of. They have tried to improve their working environment and have raised their concerns time and again. But, according to them, no one seems to be hearing and they seem to have been forgotten.
Around the Web