President Bharrat Jagdeo has called on men to be confident and to define themselves.
Jagdeo, hours after his return from the Middle East yesterday, charged around two thousand men at the National Men's Week closing rally to be confident and to redefine themselves.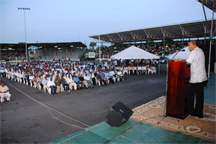 Men, according to Jagdeo, are harshly judged by women in this modern time. Women, he said, judge them by how much money they have.
"Define yourself," the president urged men, "be confident and don't let the other sex define you…redefine yourself."
The rally, conducted at the National Park, was held under the theme "Men as National Builders". It was the last in a series of activities in observance of the first National Men's Week in Guyana.
"I just got back from the Middle East this morning," Jagdeo said, "…I wanted my presence here to say how important this initiative is to me personally and to my government."
National Men's Week is a joint initiative between the Men Empowerment Network (MEN) and the Ministry of Human Services and Social Security. This initiative, the president noted, emerged out of some social problems – of which people think men are the main perpetrators. These problems, he said, cannot be rectified unless men are engaged and their values reawakened.
"This has to be a reawakening of important values," Jagdeo said.
Though the initiative aims at decreasing domestic violence and tackling other social issues Jagdeo warned that it will not take away all of society's problems in this area.
"All of your problems will not go away," he warned. "Even when Christ walked the earth the society was characterized by vices."
It is how a leader deals with these vices, the president continued, that makes him strong or weak. Men, on this journey to a better society, are not alone, Jagdeo said. It is a stony road, he stressed, and some will stumble but they will be supported. We can make a better life for ourselves, he said, and the people who live here.
We want men to be head of the family thereby taking up their role in society but are we prepared? What skills do we [men] need? What does it really mean to take up our role? These are questions, Jagdeo told the gathering, which must be answered.
If two-thirds of the graduates from the University of Guyana and the University of the West Indies are female; and the largest group of high school drop-outs are boys then how will men accept their roles, the president questioned. If academically, Jagdeo stated, men are landing behind then there is a huge problem. This is one of the first things which must be corrected because the head of the family must be a knowledgeable person.
As the programme to educate and empower men moves forward, Jagdeo said, men need to realize that they are special. Define who you are, he again urged men, and "we will walk together".
Communication skills, he further noted, don't change the nature of men. It should be understood that men are different from women and they process things differently. Guyana, he said, belongs to all of us and it is we who will fashion it into a paradise or hell by our own hands.
Jagdeo expressed the hope that the newspapers will not "see this as hostile to women".
Chief of Staff of the Guyana Defence Force Gary Best; Reverend Kwame Gilbert, Chairman of MEN; Dr. Myles Munroe, popular Bahamian writer and motivational speaker; and representatives from the Guyana Hindu Dharmic Sabha and the Central Islamic Organisation of Guyana were also among those who spoke.
Best, who was raised by a single mother, was especially passionate about men taking up their various "leadership roles" in society. He also stressed the importance of a father in the lives of children. Children without fathers, Best said, think they are less competent.
Men, the Chief of staff said, should learn how to communicate effectively; recognize the source of their lives; and take up their roles to reduce the negative interactive patterns in society.
National Men's Week commenced last Saturday. The rally had hoped to bring together some 15,000 men from across the country.
Around the Web