-gunman identified
The murder of a Canada-based Guyanese during a robbery at the Cool Square bar on Wednesday night was recorded by surveillance cameras, including the face of one of two gunmen involved.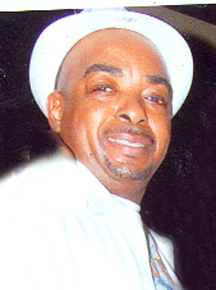 Rawle Harding, who was staying at his sister's Lot 292 Lamaha Springs home, was shot while resisting the gunmen. Up to press time last evening, police were looking for the identifiable gunman, who was clad in three-quarter pants and striped jersey. The two gunmen, who carried out the robbery and murder, had posed as customers prior to the attack.
The police yesterday said the incident occurred around 11.20 pm. Harding, along with his cousin Clarence Roberts, 56, and a taxi driver were at the bar when two men entered and purchased beverages. They then pulled out guns and confronted Harding and his cousin and one of them held on to a gold chain that Harding was wearing. When he resisted, he was shot in the abdomen.
The two gunmen, police said, took away Harding's jewellery, a billfold containing cash and documents and two cellular phones along with $15,000 and jewellery belonging to Roberts. The gunmen also grabbed an undisclosed sum of cash and a quantity of cellular phone cards from the abandoned bar area before escaping. Harding was rushed to the Georgetown Hospital, where he succumbed while receiving medical attention.
While persons saw the gunmen running toward Back Road after the shooting, no one in the area could say what means they used to escape. They might have even passed the police, who turned up minutes later.
The surveillance camera footage, seen by Stabroek News, showed when the two bandits took seats at the bar and ordered drinks. Harding, seated two chairs down, was flanked by a man and a woman. Stabroek News was told that as the men walked in "their eyes were all over the place" before they took their seats. Before finishing their beverages, one of the gunmen pulled out a handgun and pointed it at the Harding. Harding, who had recently suffered an injury to his foot, stood up, held on to the gunman and was shot. The video footage showed the gunman with his weapon in hand searching Harding's pockets before jumping over the bar counter and emptying the cash register. The second gunman was clad in a black t-shirt and wore a white cap; his face was obscured.
Business was slow at Cool Square on Wednesday night and during the commotion the few customers who were there fled. The West Ruimveldt bar is popularly known for its karaoke. It was opened yesterday and one of the proprietors, Marcy Patterson, sat behind the counter looking distressed.
Patterson told this newspaper that at the time of the incident she was taking a phone call. She recalled that during her telephone conversation she heard a sound but paid no attention to it. She then heard another sound, which she recognised to be a gunshot. She said that as she walked calmly towards the road she called her husband and urged him to check the monitor.
Patterson said he checked and told her that he wasn't seeing anything. The woman left and went to their guest house located a short distance away and when she returned to Cool Square she saw neighbours standing outside. She was then informed of the incident but was told that her brother had already taken the injured man to the hospital.
Patterson believed that the men went there with the intention to rob the establishment and even suggested that they planned the robbery well. After 12 years of operation, Patterson said, that episode was the first "real robbery" at the bar.
Meanwhile, Colette Friday, Harding's sister, was distraught yesterday when Stabroek News visited her home. Some time before 11 pm while on her way home, her daughter called her saying that she had heard that her uncle was shot. A brother later confirmed this and she subsequently ended up at the hospital.
There, Friday said, the nurse told them that he wasn't looking good and shortly after that her brother came out and said that he was dead. The woman said that she was told by a cousin that he had gone to Princess Hotel, and then to Bagostville and while on his way home decided to stop at the bar. She was puzzled as to why he would have done that since he had injured his foot during a vehicular accident on Mash Day and could not consume alcohol because of the antibiotics he was using.
Friday said that Harding arrived here on February 17 after attending carnival in Trinidad.
Yesterday she pleaded with the police to find her brother's killers. "He was not supposed to die this way. He was such a nice person," she said, adding that the man's wife has been informed of his death and is expected in the country by the weekend.
Harding migrated to Canada in 2007. He was a father of three.