-co-accused in hospital after ingesting poison
A woman, who was allegedly an accomplice in a fraudulent house lot scheme, was on Wednesday charged with obtaining money by false pretence.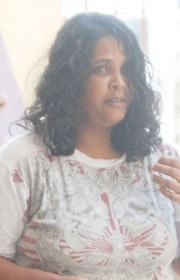 Sunita Singh, 41, of Lot 18 Charles Street, Charlestown was not required to enter a plea to the indictable charge when she appeared at the Georgetown Magistrates' Court. She was remanded. Her co-accused Prem Persaud is currently hospitalised, after he ingesting poison following the allegation.
It is alleged that between December 7 last year and January 9 this year, with intent to defraud, Persaud and Singh obtained $820,000 from Chaitram Baneswar by falsely pretending that they were in the position to obtain a house lot for him at Good Hope, East Bank Demerara, from the Ministry of Housing, knowing the claim to be false.
Prosecutor Stephen Telford explained that Baneswar last December told Persaud that he was interested in purchasing a house lot from the Ministry of Housing, to build a house for his family. The two were friends. According to Telford, Persaud told Baneswar that he knew someone at the Ministry who could assist him. Subsequently, on December 7, Persaud allegedly told Baneswar that the land, located at Good Hope, would cost $820,000.
Telford stated that Persaud even used his phone to call someone who had identified himself as the Minister of Housing. He said that the person told Baneswar that the price was indeed what Persaud had told him. Persaud allegedly took Baneswar to the Ministry but told him that he was the only one allowed to go into the Minister's office to talk to him about the land. The prosecutor said further that Persaud then introduced Baneswar to Singh, who was allegedly the person at the ministry that would have assisted him in getting the house lot.
Baneswar, convinced that the deal was legitimate, handed the money over to Persaud and Singh but later found out that they had defrauded him.
He then made a report of the incident to the police station and Persaud and Singh were arrested.
The prosecutor stated that after Persaud was told of the allegation he ingested poison and was admitted as a patient at the Georgetown Public Hospital. He is currently undergoing treatment. A report on his condition is to be made to the court when the case is called next Monday.
Around the Web