Parika vendors are still refusing to return to what they have dubbed "the ghost town hall of stalls" and are playing a game of hide-and-seek with the Neigh-bourhood Democratic Council (NDC) in their struggle to make a living.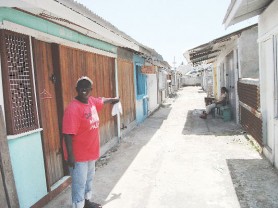 Annie Baird is among the two dozen vendors who refuse to return to the abandoned section of the Parika market, where they were moved four years ago. The sale of pakchoy, sweet peppers and a range of vegetables is what Baird depends on for money. "I shoulda bring my bank book and show you," a frustrated Baird told Stabroek News Monday morning right before she burst into tears. "Right now meh na got nothing," she sobbed, "Nothing at all me na got."
Baird said that the little money she makes from selling her vegetables is all she has to sustain herself. The issue of roadside vendors, according to Baird, arose just when information surfaced that Parika was among several locations to be granted township.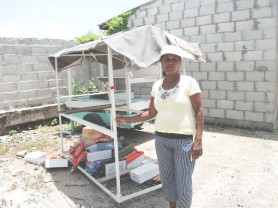 Vendors have again started to move to the roadside in a bid to get some sales. Some readopted their roadside stalls since January but NDC officials have started to raid the market area and seize the mobile stalls of these daring vendors. "Look de other day meh stall get tek away and I had to pay dem $5,000 to get it back," Baird reported. "How na man? Wa mek dem doing we so?"
Baird explained that she was among the first group of vendors to return to the roadside. She and several of her colleagues were selling at the side of Fishery Road when Stabroek News visited the area. The NDC officials, Baird said, had not yet made their daily rounds.
"It na matter how much time dem move we," she stated, "we going to still come back."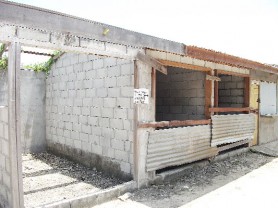 More than $3,000 in vegetables has perished for Baird over the last two days. The constant movement and hiding from NDC officials is proving to be expensive for vendors but they insist that taking the risk is better than being stuck in "the ghost town hall of stalls." "We just beggin' dem for this lil piece out here," Baird said, indicating the area where several stalls have been set up at Fishery Road.
On March 22 and March 23, Stabroek News had reported on the seizure of the vendors' stalls and the concern about the condition of the Parika market. Several of the vendors, who have small stalls on the roadside leading to the Parika Stelling, said that at a recent meeting with Minister of Local Government Kellawan Lall, the minister had charged the Regional authorities to find a suitable spot for the vendors.
However, they said at a meeting they were bluntly told by Regional Chairman Julius Faerber that they would have to move to the spot at the back of the market.
The area to which Faerber wants the vendors to return has several dismantled stalls and a few which owners never finished constructing. Ethlene Rambarran and her husband operated a clothes stall at the back of the Parika market for four years. "Meh husband used to sit down outside this stall and watchman," Rambarran recalled. "We na used to get sales and we goods end up gettin' dry rat."
Rambarran and her son started operating a mobile stall on the roadside in January. Their stall has since been seized several times by the NDC. "Is jus' de other day we had to run from de NDC people and dem run behind us…when we get to hide we does hide and when we get catch, we get catch," Rambarran said.
Another woman, who did not identify herself, told Stabroek News that her father owns a stall in that section of the market. He has not opened his stall for more than a year now and his goods remain locked inside.
Other vendors have removed their goods since that area of the market is often rummaged by "junkies" who frequent the Parika beach. There is not enough security at the market to prevent this from happening, Rambarran and Baird explained. "You na understand is only guard does be in this market when de night up," Baird told this newspaper, "And if you see dem. Dem ain't makin' no sense."
The vendors believe that they have been given a raw deal. Officials, Baird further said, do not understand the hardships of those struggling to make a living.
The feud over roadside vending in Parika has been ongoing since 2007. On October 20 that year, Minister Lall met with vendors and made a plea for them to return to their stalls that were constructed in the market. He had assured them that a solution would be forthcoming once they cooperated.
Lall had told vendors that vending on the roadside is illegal and it poses a serious threat to the safety of road users. He'd also pointed to the developmental works that are being undertaken at other market places throughout the country. Additionally, he had said, government's development plans cannot be stymied by vending on the roadside, adding that it is imperative that they be removed to allow some semblance of order to be restored both at the market places and on the roadways.
Around the Web