Broadcaster and Justice For All Party leader Chandra Narine Sharma was yesterday remanded to prison after pleading not guilty to a single charge of carnal knowledge before acting Chief Magis-trate Melissa Robertson.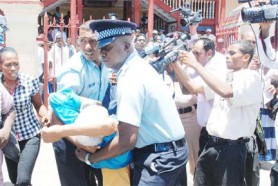 However, up to press time last night, Sharma remained under police watch at the Georgetown Public Hospital (GPH), where he was taken after two fainting spells. The CNS Channel 6 boss collapsed at the Georgetown Magistrates' Court after being remanded and later at the Brickdam Police Station, where he was being held after Georgetown Prison authorities refused to accept him without a committal order signed by the magistrate.
At the court, a battery of lawyers representing him fruitlessly argued for almost an hour in a bid to have him released on bail. Sharma, frothing at the mouth, collapsed while in the prisoner's chute and had to be lifted to a police vehicle, which whisked away to the hospital, while a crowd of mostly women gathered in the court yard wailed and called out for justice for him. For years, Sharma has campaigned for the poor and downtrodden, giving them a voice on his television programme, 'Voice of the People.' "We guh get justice fuh yuh Mr Sharma, is a frame charge you get," one of his supporters shouted as he was being lifted out of the court compound.
Stabroek News was told that during his first visit to the GPH, Sharma had an x-ray and an ECG done, but was not admitted to the hospital based on the results of those tests. Late yesterday afternoon, he was then taken to the Georgetown Prison but the authorities there refused to accept him since the magistrate had not signed the committal order. He was then taken to Brickdam Police Station, where it was ordered that he be taken back to the prison. By then it was after 6 pm and according to the law prisoners cannot be accepted after that hour.
In-camera
Director of Public Prosecutions (DPP) Shalimar Ali-Hack, who represented the prosecution during the in-camera proceedings from which the media and members of the public were barred, said Sharma will appear in Court Two today.  She told reporters after the proceedings that Sharma was arraigned on one charge of carnal knowledge of a child who was seven-years-old. The charge stemmed from allegations made by the now 13-year-old complainant, who accused Sharma of sexually molesting her from the age of seven with the knowledge of her mother and siblings. The child's older sisters have also alleged that they were also molested as children and that one of them had a child by Sharma. The sisters had initially denied the girl's charge.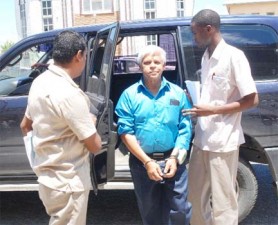 However, Ali-Hack said no further charges are likely to be laid against Sharma since "all of the evidence in relation to all the persons concerned will be led at this preliminary inquiry."  She said she opposed bail on the grounds that Sharma had faced similar charges before and also because of the fear that he may tamper with the witnesses. The DPP said this was the third such charge Sharma has faced and revealed that in the other two cases, the complainants failed to show up in court and the magistrates were forced to discharge the cases.
Asked if she thought she had a strong case, the DPP said: "At present, based on the statements I have seen, I will say yes."
She also said she could not comment on the health of Sharma, who was an in-patient at the Caribbean Heart Institute (CHI) since last Thursday night, but stated that while she had not spoken to the accused, "I have seen him; he looks the same way he looks when I see him on television."
'Extremely ill'
However, attorney Vic Puran, one of four lawyers representing Sharma in court yesterday, said his client has a medical report that says he is "extremely ill." Asked to elaborate, he said his client had problems with his blood pressure, his diabetes and he even suffered a minor stroke on Monday.  "But I am sure the magistrate considered all those factors before she refused bail," Puran told reporters outside the court compound.
He said he was not surprised that his client was refused bail "because that has been the pattern; where persons who are unfortunately accused of crimes of this nature are remanded." The lawyer, who appeared along with attorneys Nigel Hughes, Mark Waldron and Tanya Warren, said his client would be exonerated because he is innocent. "Is there not a presumption of innocence? The state has to prove its case and based upon instructions we have received we are pretty confident that he will be exonerated because I think we have an infallible defence," the lawyer said. He said while he did not wish to go into the merits of their case or that of the prosecution's, he had "practised long enough to be able to tell you that we have a defence which will surprise all of you."
Handcuffed
Sharma's arrival at court was greeted by loud shouts of "Sharma! Sharma!" And as he exited the unmarked police vehicle he held up his handcuffed hands in the air as supporters and media operatives encircled him. "We will protest for you Sharma," one woman shouted. Another shouted, "We are going on the road for you."
"Mr Sharma don't be afraid. But is who dah man kill? Look how dem handcuff he," another of his female supporters commented. Another one said those who are making the allegations are after the talk show host's money.
When he was asked about his health, Sharma said he was very ill. Later on, in the courtroom while the magistrate was off the bench, he addressed reporters and informed that he had discharged himself to make the court appearance.
Looking down at the blood pressure monitor on his wrist, the accused claimed that his heart rate was 120 and that should he collapse in court, "I will blame the people." The accused, who was dressed in blue shirt and a blue pair of pants and who still had an intravenous tube in his arm, also said that his blood pressure was 280 over 120.
When reporters were allowed back in the court after the in-camera proceedings, Sharma was seen in discussions with his lawyers, his wife Savitree and their daughter. As he was being led away to the prisoners' chute, Savitree tenderly patted his cheeks.
However, when the chute door was opened, Sharma was found slumped on the ground frothing at the mouth.
Many persons from the mostly female crowd started to cry out for him, begging that he not die. They also warned the police to be careful as the lifted him to the vehicle. Others were sceptical about the collapse and doubted that Sharma had fainted as they observed that he squinted while being lifted to the vehicle. It was pointed out that if Sharma was indeed unconscious the glare of the sun should not have affected his eyes.
Around the Web