City Council members yesterday toured drainage facilities to observe work being done around the city in the light of what Mayor Hamilton Green said was "careless and malicious" talk of flooding in some sections of the media.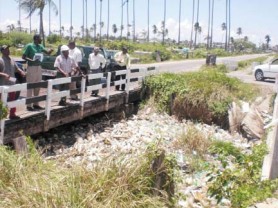 Yesterday on the grounds of City Hall before the tour took off, Green said the council did not mind the media being "unkind" but "they must have knowledge". He went on to state that flooding in Georgetown "is an exaggeration".
Green pointed out that "if you have over [a] 24 hours period, two inches of  rainfall even in ideal conditions there will be a retention of water", on the land. The issue, Green said, is that the council does not have the resources to clean the waterways as constantly as is required. He then appealed to the media to help by urging "every level of citizen not to dump waste in the canals and drains".
Meanwhile, City Engineer Gregory Erskine assured the media that the council is prepared for the upcoming rainy season. De-silting of canals, maintenance of pumps and works related to security are ongoing programmes. Erskine said the council had 300 miles of drains to clean with 16 miles completed thus far.
He pointed out that it costs $1 million to clean one mile. This cost he said was inclusive of machinery and manual labour. Rating the council's preparedness for the May/June rains, Erskine said it was 8 on a scale of 1-10.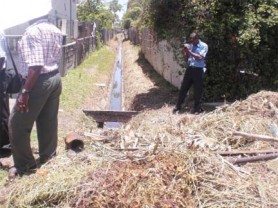 However, while the council said drainage was a high priority, it faces several challenges. The council highlighted aggressive aquatic growth exacerbated by the phenomenon of excessive use and disposal of plastic, Styrofoam and other non-biodegradable materials.
This increase in the materials being dumped in the water ways resulted in the break of the southern grill that protects the Liliendaal Pump during the recent rains. The council is in the process of removing the debris but noted that working at night posed hazards and is difficult.
Further, the blockage of the Cowan Street outfall by a pontoon which slowed flow of water out of the city also compounded the problem. The accumulation of silt around the pontoon restricted the amount of water that could be discharged into the Demerara River.
And in relation to the Demerara River, the council added that daily accumulation on silt at the western end of the outfall channel is another factor which makes keeping it open an ongoing exercise. Other factors that the city council identified as challenges include the fact that Georgetown is below sea level and "monumental mistakes" which were made by previous administrations both central and municipal.
There are 11 outfalls which drain the city. These are supplemented by two electrical pumps, the Liliendaal and Kitty pumps, along with five hydro flow pumps.
Around the Web