Vidyaratha Kissoon yesterday resigned from the Rights of the Child Commission, citing the failure to resolve the allegations of "child maltreatment" against fellow Commissioner Kwame McCoy, among his reasons.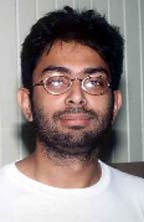 In a letter of resignation to Speaker of the National Assembly Ralph Ramkarran, Kissoon also said he feared he would be unable to resist influences that he might perceive as "threatening" to his well being. "I can find no mechanism provided by the National Assembly to deal easily with such influences," he explained.
Kissoon's resignation followed a meeting of members of the commission on Wednesday, in order to elect its Chairperson and Deputy Chairperson–almost a year after they were sworn in. McCoy's nomination, made by the Human Services Ministry, was greeted with objections from the parliamentary opposition, which had urged the government to withdraw it.
McCoy, a PPP/C regional councillor and Office of the President Press Officer, subsequently found himself facing allegations that he was the speaker on an audio recording with an underage boy, discussing plans for a sexual liaison. McCoy has claimed the recording is a fabrication and based on a report he made the police force has been investigating the case.
Kissoon, in his resignation letter, said he had a different framework of principles from the National Assembly, in relation to how the work of the commission should be conducted.
He referred to the allegations made against McCoy and noted that the commission's first meeting was conducted without any resolution of the issue by the National Assembly. McCoy was present at the meeting. "I believe that these allegations are serious and warrant an appropriate intervention from the National Assembly and the Ministry of Human Services to ensure that the allegations are resolved. I believe that any commissioner facing such allegations should also recuse themselves from the activities of the commission pending the investigation and resolution of the allegations," Kissoon said.
He also noted that there would be non-threatening lobbying influences and other forms of attempts to influence his work on the commission. "While I might be able to negotiate and resist the non-threatening influences, I do not believe that I would be able to resist any influences which I might perceive as threatening to any aspect of my well being," he said.
Kissoon emphasised the importance of the commission's work and said it was his intention to continue, as a citizen, to support the fulfilment of its objectives.
According to Article 212V of the Constitution, the Rights of the Child Commission is mandated to promote the rights and interests of, and respect for the views of, children; ensure that all rights of children are taken into account at all levels of government, other public bodies, and private organisations when decisions and policies affecting children are taken; and monitor, evaluate and make recommendations on policies, procedures and practices of organisations, bodies, institutions in order to promote the rights of the child.
Around the Web