Relatives of Indramattie Boladass have written to the Police Complaints Authority (PCA) over the police force investigation into her death, which they maintain was linked to an alleged beating administered by her husband.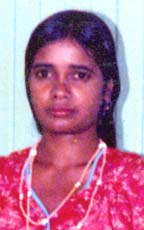 Boladass' relatives believe she died after she was seriously beaten by her husband at their Coconut Dam, Cane Grove home on March 2. Rampertab Boladass has denied ever beating the woman and insisted that she sustained her injuries after she fell twice in their yard that day. An autopsy revealed that Boladass died from a heart-attack and that she had sustained four broken ribs as well as a broken hip.
Several days after the alleged beating, Hamawantie Singh had discovered her sister on the floor of her Coconut Dam home. Singh had said her sister cried out for pain and was covered in her excrement. It was after the discovery that a report was made at the Cane Grove Police Station.
Singh explained that by the time they had arrived at the Mahaicony hospital with her sister the police station in that area had already been informed of the incident by their Cane Grove colleagues. "When we reach at the Mahaicony hospital I had to go the police to collect a medical there and the Mahaicony police already heard the about the incident from the Cane Grove Police," Singh recalled. "The police never took any statements and they were supposed to come to the Mahaicony hospital to see my sister."
On March 15, more than a week after the alleged beating, Boladass succumbed to her injuries at the Georgetown Public Hospital (GPH). She was transferred there on March 12 from the Mahaicony Hospital. It was only on her arrival at GPH that an x-ray was done and it was discovered that Boladass had suffered a broken hip bone.
The day before Boladass died, her sister said, she confessed in the presence of hospital staff and relatives that she had been beaten by Rampertab. Singh continues to insist that this is yet another thing from which police could have launched an investigation. She further pointed out that during the alleged "fight" on March 2, a neighbour rushed over to pull Rampertab off her sister. "The neighbours know what was happening and the one that part the fight saw a bit of it…I don't know why they won't come forward and talk," the woman said. This, Singh stressed, is yet another lead the police could have taken. Rampertab had been taken into police custody but was released after being questioned.
Singh had approached Red Thread for help after police ceased investigations into her sister's death following a post-mortem report. Over the last month, Singh told Stabroek News on Wednesday evening, she has sought help from a number of organisations but "everything leads to a dead end."
Crime Chief Seelall Persaud, in an invited comment, had told this newspaper: "You reported that she [Boladass] died of a heart attack. She died of a natural cause, so what is there to investigate?"  Following Persaud's statement, Singh said her employer Roshan Khan, had written to him about the investigation into Boladass' death. The Crime Chief dealt Khan the same response in writing.
There were marks of violence all over Boladass' body, Singh had said and provided pictures of these. Singh said that she has since been told the pictures will be of no use because they can not hold up as evidence in a case. "I don't know what else to and I don't know if there is anything I can do…nothing will come of this matter," Singh said.
Red Thread's Karen De Souza, in a letter which was published in this newspaper on March 24, noted that "One could be excused for thinking that Mr Seelall Persaud has some reason for refusing to investigate the reports of violence against Ms Boladass. Has Mr Persaud satisfied himself that the broken bones and bruises displayed by the medical examination at the PHG were the result of a fall as the husband claims? And on the health front, have the Chief Medical Officer and Minister of Health been following the reports of the death of Ms Boladass, and have they ascertained that the autopsy procedures and reports provide adequate information in relation to death–causes, contributing and underlying factors and descriptive information about the state of the body under examination? Are these health officials satisfied that all necessary medical attention was given to Ms Boladass?" These are questions which have not been answered.
Around the Web