By Iana Seales
Coordinators of the Guyana Artistic Music Awards said politics and "other things" entered the discussions prior to the staging of the show tomorrow night, but despite the lack of support the event is on and will honour a number of artistes based here and overseas.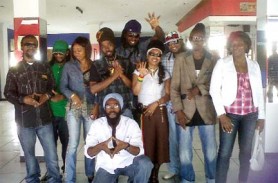 Sherlock Shepherd, a Canada-based Guyanese, is coordinating the awards show and he disclosed yesterday that general support for the show has been fleeting.
He said sponsorship and corporate backing was something which was denied because he refused to "play a game of politics." Shepherd said the sole aim of the show was to promote and recognise pioneers in Guyanese music, noting he intends to do that when the awards are held at the National Cultural Centre (NCC).
Shepherd said he saw the need for due recognition to be paid to many Guyanese artistes, many of whom left Guyana to develop their skills and are now promoting the music in various countries. He said previous attempts here to honour Guyanese music failed to recognise many of the people who were among the pioneers of local music.
Singers Aubrey Mann and Donna Makeda are among the names which Shepherd said were excluded when tributes were paid to Guyanese artistes at an inaugural show staged here last year. There is a string of other singers who are out there promoting Guyanese music, he said, but noted that many people in this country have no idea of who they are and or anything of their contributions.
The nomination process for the awards was open, he noted, saying artistes with at least four professionally recorded songs were eligible. He said a panel of five judges was formed to select winners in the various categories which include soca; gospel; chutney; dancehall; reggae dancehall; reggae; and culture. He said they are also recognising a few persons outside the music recognition.
Shepherd told a press briefing yesterday that the show was first staged in Canada last year, but a decision was taken to move it to Guyana. He said the show is an annual one and the aim is to hold it every year in April. "…It's a neutral award show. We don't want it to be our friend's awards, but the Guyana Artistic Music Awards and just that," he said. He said there is no room for any bias.
Aubrey Mann, popularly known for the song "Stealing Love On the Side," is back home for the awards show and he cites his reason for being here as "coming home to feel appreciated."
Mann is based in Canada and performs worldwide and while he has been honoured several times, he said no one in Guyana has ever recognised his work.
He said Shepherd is breaking new ground with his efforts, adding that artistes who left Guyana continue to identify with the country.
"To come home and do this with him [Shepherd] is tremendous. I gave up some work, some money to be here but I said why not. I thought that if I don't come who else is going to represent my era, I just wanted to say that I am here wholeheartedly and I am privileged to be here," Mann said.
He continued that it was a bit disappointing to come back home for a show and have people question him about "what show." Mann said since he arrived in Guyana people seem clueless about the event. "The last thing I want to do is stand up on a stage to represent Guyana and Guyanese aren't there. That is my worst fear," he added.
Mann echoed the sentiments of many of the artistes when he said that artistes who no longer live here but still sing under the banner of 'Guyanese singers' want to feel appreciated. He said many of them feel that due recognition at home has been lacking for some time now.
Singer Daddy Rusty, who was born in Berbice and now sings out of Canada, said he is not happy with the fact that the music of overseas-based Guyanese is not receiving much airplay here. He said he spoke for many of the artistes when he said that local music plays second fiddle to the sounds coming out of other countries, particularly Jamaica.
He said too that people on the international scene continue to identify him with Jamaica whenever he performs.
Donna Makeda said she is here because she believes Shepherd is attempting to unite Guyanese artistes in addition to honouring those who have been keeping the music alive overseas. On the issue of Guyanese music having a distinct sound, she said reggae has "one sound," noting that no matter who is singing people are likely to hear only that sound.
Shepherd said people in the entertainment industry here were reluctant to offer support. He said people openly stated that Guyana is "their turf" and basically indicated to him that if a foreigner is here to promote anything then that person must go through them. "These things are politics and we want no part of that," he said. He said that on the next staging of the show he will prepare for the obstacles and will seek sponsorship from overseas.
He said the show "will continue," adding that some local artistes are among the nominees. He said they are not likely to perform and there is also no indication as to how many of them are going to show. Shepherd said some 33 music awards will be handed out.
Some of the artistes who are here include Kiya 'Zebulun' David; Sherlock 'Daddy Rusty' Waithe; Jomo 'Kapa Shanti' Proctor; Yonette 'Mystique' Hooper; Colin 'Redemption' Simpson; Jerome 'Tender Warrior' Roberts; Donna Makeda Gomes and Eon 'Major Joe B' Rodney.
Tickets for the awards show range from $2,000 to $5,000 and are on sale at the NCC.
Around the Web