Chasing cattle thieves in the sprawling Rupununi savannahs, at times Chad Phillips slept in the open with little to eat and little protection, but determined that the rustlers would not be allowed to operate freely.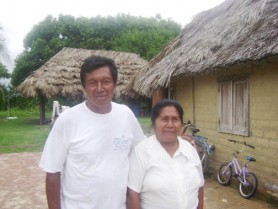 Almost always, the thieves escaped after a short dash from the Deep South Rupununi into Brazil, returning to plague the community of Karaudarnau at will. They wanted him dead, Phillips said, speaking with this newspaper last week in the community – one of the villages in the remote district where cattle-rearing is a major activity. Now at 62, he can still go after the thieves but thankfully the situation has eased in recent years.
Life in the sprawling savannahs of the Rupununi is harsh. In the Deep South, far from any place else, it can be doubly so. Despite this, many survive and thrive without modern amenities that others consider necessary. In the village, Phillips is popularly known as 'Uncle Chad' or 'Brother Chad.' He is not called Cowboy Chad, though this is what he has been for most of his life. It could have been different but on his birthday, April 15, resting for a bit, he seemed content with the life he forged.  "I do all kind of work," he said, his weathered face not disputing this simple statement. For years he rose before dawn to milk, round up and treat any sick cattle. He continues to do so. It seems inevitable given that his first job was being a cowboy.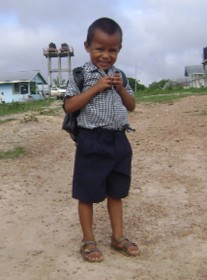 When he was growing up, Karaudarnau (translated as Snake Hill), an indigenous village populated by the Wapishana tribe, was not as it is now, Phillips said. He said that the area was "wild" with lots of snakes and other wild animals and the people lived in scattered settlements, far apart from each other. But the place was "good" with lots of fish and plants, he said.
However, as priests arrived and a Roman Catholic Church built, the people began to build homes closer and the village grew. A school was started in the church building and at age seven, Phillips, the eldest of eight children, was dispatched to classes. He walked seven miles in the morning and the same distance in the afternoon to learn English, Arithmetic as well as "touching a little bit on other subjects." The school did not see him on Mondays. "I was only seven years old… to walk up and down every day, I got tired," he explained. It was not until he attended school for two years, that his parents constructed a shed in the village where he and his brother slept in hammocks, returning home periodically on weekends. But living there, he also had to look after himself, and on his own made cassava bread and fished in the creek for his meals.
Phillips said that the priest had wanted to send him to school at Sand Creek to further his studies, but his parents could not afford it. "I didn't had no clothes. We couldn't afford pens or books," he said. He stayed and at 15 years left school and went to look for work. His first job was at a ranch close to Mountain Point, where he worked for three months as a cowboy and was paid a dollar per day. He then went to another ranch, where he worked for two years.
Phillips grabbed an opportunity to work with Canadian-Guyana Mapping as a labourer where he was paid $536 per day, a lot of money at the time. He and another man cleared mountain tops, where towers were installed so the cartographers could see around them. At one point at the New River Triangle, he said, Surinamese aircraft droned overhead, observing as they worked. He also had to spend a Christmas on the mountain top, the other members of the team having flown back to Georgetown.
However, his most memorable experience was trekking through the wilderness, close to the source of the Demerara River at Canister Mountain, and getting lost. Surviving on Brazilian nuts and wild fruits, they "followed the sun" and stumbled upon the trail three days later. For six months, he worked, cutting down trees with only an axe. Their hard work impressed the Canadians, who offered them jobs in Canada.
But as the aircraft waited at the Lethem Airstrip to take them away, Phillips said he "walked away" and hid because he did not want to go to Canada. He returned to Karaudarnau and on January 11, 1971 married Anita Stephens. He was 21.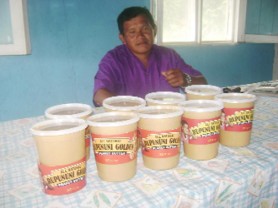 Returning from a trip to visit his wife's relatives in Brazil, he was offered a job as a truck porter with the Interior Department. He travelled throughout the Rupununi for two years while Anita remained at home, occasionally coming to visit because at that time, there were weekly flights from the village to Lethem. At the end of the two years, he returned to Karaudarnau and began farming. He was elected several times as a village councillor, serving for eight years before being elected Toshao for four years and after declining another term, was elected once again as councillor.
After returning from Lethem, the then headmaster of the school asked him to look after two cows. Under his care, the herd grew as more cows were purchased and others re-produced. Phillips and his wife, the parents of three as well as an adopted son, also planted peanuts and used the money earned to purchase more cows. "We work hard to get them," Anita said, adding that they have about 80 cows now. But in the wild land, cattle thieves and rustlers, many coming from the neighbouring village of Achiwuib, raided.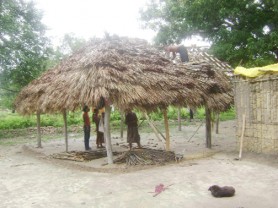 Time and again, they were plagued by the cattle thieves, Phillips recalled. He said one of the most notorious gangs was led by an Achiwuib man known as 'Harry.' He recalled that numerous times, he and Guyana Defence Force soldiers sought unsuccessfully to find Harry. "Harry was the big thief," he said, adding that the cattle rustler had even threatened that he would kill him. Phillips recalled an incident when the bold rustler even came to his home in the village on one of his horses that he had just stolen. "He came in our house," Anita said. "He shoot horses and carry away our cows." Once, when they learnt that rustlers were in the area, she stayed all night with the animals to protect them. Several years ago, Harry was caught in Brazil and jailed.
With villagers still mostly retaining their traditional way of life, beliefs in evil beings such as Kanaima and the whistling wandering ghosts of the evil dead, remain strong. Phillips said that one time when he was cutting firewood in the forest, a strange youth came and asked his name and what he was doing. He said that the youth's face was marked between the forehead, around the eyes and face with a red substance. Philips said that he asked the youth why he wanted to know his name and asked where he came from but he refused to answer and instead repeatedly asked Phillips to disclose his name. He refused, Phillips said, and asked the youth him why his face was marked but the youth refused to answer and grew angrier when Phillips refused to disclose his name.
Phillips said he decided to leave. However, at home later that day, his body was wracked with pains. He remained sick for a month, his illness not diagnosed and unable to eat. According to traditional beliefs, the kanaima kills by doing something to the stomach. Phillips said that at times, delirious, he saw the youth and heard whistling around his home at nights. He explained that he believed that the kanaima was looking for a particular person and wanted to know his name to find out if he was that person. "If you hear whistle around here… they really want you," Philips said. "It's true it get that kind of devil," he said adding that only God knew why he was still alive. A few years ago in the village, an elderly man was beheaded because it was believed that he was a kanaima and had killed a child. No one was ever arrested.
Meanwhile, Phillips continues to get up at 4am every day to milk and look after the cattle. At one point he looked after the cattle of 18 villagers, but less now. He also continues to farm, planting cassava and rice. He also rears pigs and is the treasurer for the village school's Hot Meal programme.
Karaudarnau has changed slowly he said; the population had increased but the people do not look out for each other as they did in the past. "Long ago used to be good," he said. He recalled being able to receive radio broadcasts from Georgetown and weekly aircraft flights to the remote community, but this does not happen now. He purchased a television set, powering it with a solar panel and battery, and watches programmes from Brazil since Guyanese television signals do not penetrate to the area. Newspapers can take weeks to arrive in the community, if at all. Phillips has also joined the Christian Brethren church, where he is an elder.
He said that in the future he wants to see water and electricity provided in the community pointing out that most people continue to use lanterns and candles. He also hopes for better health and education services and better roads. Additionally, he said, in "Burnham days," vaccines were provide for cattle at no cost, but this is not so now with authorities saying that only five cows from private owners can be injected. This he would not accept.  "We trying to buy medicine for ourselves now," he said pointing out that it is expensive. Another problem, Phillips said, is that the cattle are grazing on state land but they want their own land. When the animals are in the village people chop and harm them, he explained.
"He work so hard," Anita said adding that not many persons have worked like he has. The animals are a major source of income for villagers and Phillips is thankful that rustling has declined. But, according to reports, Harry, the notorious cattle thief, was recently released from his Brazilian prison.
Around the Web