The life of a 36-year-old woman was violently snuffed out yesterday when her husband of seven years repeatedly stabbed her with a Rambo knife, bringing an end to their turbulent relationship.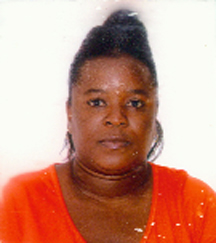 Dead is Donnette Ward, a mother of one and Barbados based. She had been staying at her mother's Lot 100 Herstelling East Bank Demerara residence, and it was here the killing took place around 10.30 am. It was the quick response of residents who chased after the suspect, 59-year-old Geoffrey Ward, that was instrumental in him being caught. The man was later handed over to police.
In a press release last evening, the police said that investigations had so far revealed that Ward had arrived in the country recently and was residing at her mother's home at Herstelling. Her husband, the release said, allegedly went there this morning and an argument ensued between them during which he stabbed her about the body with a knife. The man also attacked his niece, Stacey De Cambra who managed to escape unhurt.
Ward was taken to the Diamond Diagnostic Centre where she was pronounced dead on arrival. The suspect, the police said, had been arrested and was in police custody while the knife believed to have been used in the incident had been recovered and was lodged with the police.
When Stabroek News arrived at the home, blood was splattered everywhere. There was a trail of blood leading from the bedroom where she had been stabbed through the house and down a staircase into the yard.
This newspaper was told that the woman had been stabbed multiple times about the upper body although it was believed that two wounds just below her left breast were the fatal ones. Despite her injuries she managed to run to a nearby shop where she collapsed and apparently died.
In his haste to escape the man left behind the murder weapon and a haversack containing clothing, a pair of boots, several sim cards and personal documents, including passports and a national identification card. Yesterday relatives were contemplating burning the items.
Ward's mother Princess Peters said that her daughter returned to Guyana on Thursday. She had been living in Barbados where she had been a resident for some six years, and would return here frequently to buy clothing which she resold on the island.
Peters recalled that her daughter came home in good spirits and when she spoke with her around 9 am yesterday things seemed fine. The niece who was in the house at the time, related to her that she had heard shouts and upon investigating, she saw Geoffrey stabbing Ward and there was blood everywhere.
The tearful mother said that the niece started to shout for help and tried to flee. It was at this point that the man turned on her, but she managed to run out of the house locking the front door behind her.
From all accounts, Geoffrey fled shortly after that and according to Peters her daughter made it out of the house but collapsed in front of a shop two yards away. She said that neighbours who saw the man running "up the street," pursued him while others called the police. The police, it was reported, responded quickly and the man was caught.
The woman said that the niece who had witnessed the incident called her and broke the tragic news. She said she immediately started to cry and when she arrived at the hospital Ward was already dead.
Threatened to kill before
Peters said the couple had been married at least seven years, and after staying with her for about a year, they migrated to Barbados where Ward worked. According to her the man never had a job during the marriage. "He didn't want to wuk. He din just want she mine he all de time," she said.
Peters related that while living in Barbados Geoffrey had threatened to kill her daughter and she had reported it to the police. She added that nothing was done on that occasion and her daughter "probably didn't follow it up."
Stabroek News was told of another episode on the island during which the man held Wade by the throat and threatened to cut her with a broken bottle he had in his hand.
The man returned to Guyana two years ago while the woman and her 14-year-old daughter from a previous relationship remained.
Peters added that during the marriage her daughter was hit repeatedly and the man was always abusive.
She recalled that at one time he had called her, saying that her daughter had to "get out of my bones and give me some money." Though she didn't fully understand what he meant by that she believed that this was a sign he was going to kill her.
After his return to Guyana, the woman said that she never saw her son-in-law until last month when he came by her stall in the city inquiring about her daughter. She explained that her daughter had returned home but then had left, and Geoffrey wanted her number. Despite all of this, Wade would still give him money, she said.
Her eyes again welling up with tears, Peters said that she had since learnt that he had visited her house on Friday. Shortly before the incident a relative had seen him on the street and he was acting "speedy, speedy."
Strange vibes
Peters recalled that from the day the two were married she sensed something strange about Geoffrey and was certain there was trouble ahead.
She recalled that while the couple lived with her, the man locked himself in a room for an entire day and did not come outside.
"Ah told her about him and ah warn her to be careful," she said, adding that she advised Ward after the first threat on her life not to return to the relationship. She said that she was scared for her daughter because the man had told her that he had already dug a pit to put her in. For Peters that was a "red flag… But it tek he two years to execute it," she added.
Geoffrey, Peters recalled, was very uncomfortable around her because he realized that she knew he had ill intentions. Ward also leaves to mourn her father Alvin Greenman and four siblings.
For this year, nine other women have died violently at the hands of their spouses, in several cases after years of abuse.
Last March, 34-year-old Savitrie Arjune was stabbed to death by her former reputed husband minutes after she left her Herstelling home for work. Her death came after years of physical abuse and threats. The man is yet to be apprehended but relatives believed that the former seaman had fled the country.
Around the Web