The airport passes of three senior employees of Roraima Airways were recently withdrawn following a damning report by Director of Public Prosecutions (DPP) Shalimar Ali-Hack arising out of the pink suitcase bust in January at the JFK International Airport.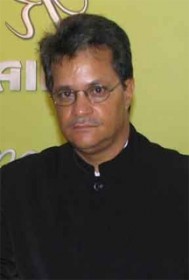 However, Chief Executive Officer of the airline, Captain Gerry Gouveia has since sent a letter   to Ali-Hack's March 8 report protesting her conclusions.
He told Stabroek News on Friday evening that his staff did nothing wrong and they carried out their responsibilities "one hundred per cent" in accordance with the policy of the company.
The three persons who had their passes revoked by the airport authorities based on Ali-Hack's report were Mark Chan, the company's security supervisor; Warren Chase, who was responsible for paging passengers and who has had some 27 years at the airport; and Carmen Peterkin who was manager of the company's executive lounge.
Gouveia on Friday emphasised that his company was contracted to handle the baggage for Delta Airlines and as such the duty of his employees was to ensure that each item of baggage was matched to a passenger.
The security aspect was left to the police, Customs Anti Narcotics Unit (CANU) and the airport authorities.
He posited that a detailed investigation should be done before damning conclusions were come to which in turn destroyed the lives of innocent people.
Ali-Hack in her report and advice to Crime Chief Seelall Persaud among other things recommended that three of the airline's employees be removed from the airport and that if this were not done then the services of the airline at the airport should reconsidered.
"Their employees together with others clearly played an integral role in facilitating the exportation of this suitcase of cocaine from Guyana," she said.
Four persons, including a Roraima airport employee, have since been charged with conspiracy to traffic in narcotics after a pink suitcase with over 50 pounds of cocaine slipped through the Timehri airport but was later intercepted by US authorities. They are all on $35,000 bail each.
The joint charge alleges that on January 12, at the Cheddi Jagan International Airport (CJIA), Timehri, they conspired with each other and Dorothy Sears and with other persons unknown to export 24 kilograms, 600 grams of cocaine. Sears had been busted with marijuana in her brassiere and the pink suitcase containing the cocaine at the JFK airport in New York.
According to the DPP's report several of Roraima's employees did not carry out their duties in relation to the pink suitcase.
She named the airline's security supervisor Mark Chan as one of those persons, and stated that Muniram Persaud, one of the persons faced with conspiracy charges, asked him to waive the pink suitcase, which was pulled by a CANU rank, as it belonged to one of his relatives.
Ali-Hack pointed out that there was no statement on file  as to whether the security cameras were examined to see if there was evidence to support Persaud's story and recommended that it be done and Chan be taken into custody and questioned.
"This is the second narcotics file I am dealing with where his [Chan's] name is featuring in relation to suitcase with cocaine being exported from Guyana at the Cheddi Jagan International Airport," the DPP wrote.
She said she was "aghast" to note that after the first case he remained the security supervisor of the airline.
"Roraima Airways must be advised to have him replaced immediately for he is involved in trafficking in narcotics at the Cheddi Jagan International Airport," Ali-Hack said boldly.
She then advised that efforts be made to get Chan and that in order to do so a plea bargain agreement should be proposed to Persaud in light of what he said about Chan.
Before he was charged Persaud worked as a supervisor for CANU at the airport and has been with the unit for 13 years since it became a semi-autonomous body.
However, Gouveia told Stabroek News that because Chan is the security supervisor whenever there is any incident involving Delta Airlines at the airport, he would be factored in and would be mentioned in any report given.
In addition he told Stabroek News that following the report last month he had cause to write to the DPP and he also went to see her.
According to him from the report it is quite clear that Ali-Hack "has no idea of the operation at the airport."
He pointed out that his company was not responsible for the contents of suitcases but just to ensure that every suitcase was matched to a passenger.  He said following the meeting with the DPP she did give the assurance that she was going to review her report.
Touching directly on the subject of the pink suitcase, Gouveia pointed out that the scanner at the airport was manned by personnel from police, CANU and airport security and all three were supposed to be independent of each other.
Gouveia pointed out that his company is one of the biggest investors at the airport as he had half a billion dollars invested in various areas of the airport.
Security cameras
Meanwhile, the DPP also commented on what she described as the poor quality of the surveillance tape at the airport, and questioned why the issue was a recurring one while advising that the issue be addressed immediately.
"It would be remiss of me if I do not comment that once again there was mention in this file that the security surveillance cameras were not clear," she wrote.
"Why is this?" she then asked and advised that the "agency responsible for this system immediately address this issue and that the cameras be replaced with cameras from which investigators can see clearly. There are such cameras."
The cameras are operated by officials from the Guyana Revenue Authority (GRA) and help thwart tax fraud. There have been many complaints that the cameras were not well placed to aid counter-narcotics operations. At one time video footage was not shared with narcotics authorities and it is still not clear whether it will be admissible in drug-related court proceedings.
Ali-Hack advised that one Gary Johnson should give a detailed statement explaining the "integrity of the recorder for the surveillance cameras" that were used by one of the police investigating officers.
"He must also state if he was the person who ripped it. If he did not do so then that person has to give a statement stating in detail the integrity of the disc."
She said the information should include whether the tape was tampered with, "retouched or in any way altered and where it was stored.
"Also where the recorder was stored and whether anyone tampered with it, retouched or in any way altered it prior to the ripping of the disc," she said.
She also called for the police officer who reviewed the tape to give a further statement "stating that he received it and how he has kept it so as to establish the integrity thereof."
Around the Web