Fifty-five women from the organisation 'Women with Power' graduated with skills acquired in four areas including floral arrangement and cake decoration at the Venezuelan Cultural Centre on Friday.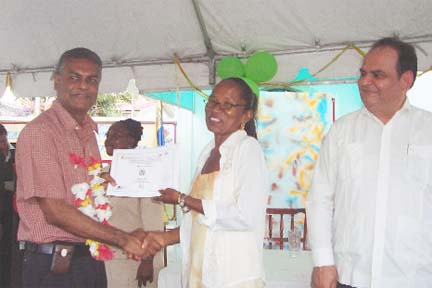 The women drawn from across Guyana were trained under the auspices of the Venezuelan Institute for Culture and Cooperation.  They successfully completed training in floral arrangement, tie-dying, nail art and cake decoration.
Venezuelan Ambassdor Dario Morandy in brief remarks said that the ceremony celebrated the achievement of a group of ladies, noting that the training was aimed at allowing women to earn their own money and lead more dignified lives.
Commenting on the relationship between Guyana and Venezuelan, he said that the programme represented another area in which the friendship and collaboration between the two countries was being explored.
Minister of Labour Manzoor Nadir urged the graduates to treat their clients with a great amount of dignity and not to see graduation as the end of training.  He added that they had a tremendous opportunity to acquire income from their skills, but they had to go further. While their new skills may not make them rich overnight, he said, it would help to offset their expenses.
He urged the women to break away from the traditional perceptions of women and added that women could do almost every type of job as well as a man could.
Representing the Ministry of Human Services and Social Security Sheila Verasammy in remarks told the graduates that the knowledge gained will indicate the way forward and should be seen as just the beginning of the journey. She lauded the institute for their programme and said that her ministry envisioned collaborating with them to strengthen the courses offered.
To date, eighty-eight women have benefited from training at the institute.  A mini-exhibition was held to showcase the work of the graduates during their training.
Around the Web