Several hours before dawn yesterday a lone gunman murdered Ryan Brimmer execution style in Albouystown.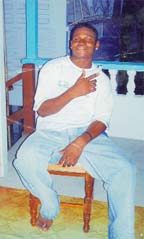 Brimmer, 20, of Zeskendren, Mahaicony had been staying with relatives in Albouystown for less than two weeks. Just before his death Brimmer had been offloading scrap iron from a cart with his cousins David 'Buck' Allicock and Herlando Allicock.
In a press release issued yesterday afternoon police reported that the incident occurred at about 1am on James Street. Investigations, they said, had revealed that while Brimmer and his cousins were on Hill Street offloading the cart a man rode up on a bicycle and confronted them with a firearm.
David was fetching a piece of scrap iron into the Hill Street yard when the gunman approached. The gunman, Herlando Allicock said, approached him and Brimmer from the rear and said "Buck one ah y'all going home tonight."
"He just there," Herlando said pointing to spot about two feet from were he was standing, "and I saw his face… I recognize him," he insisted.
"Buck, yuh dead," were the words which alerted David Allicock to the gunman's presence. When he looked back from his position in the scrap iron yard he too was able to recognize the gunman. He later said that the attacker wasn't wearing a hat or mask and made no effort to conceal his identity from them.
"My cousin look just like me, same physique, same colour, same hairstyle," David explained, "but last night [yesterday] I tie up my hair and he had his hair loose down… his hair is a bit shorter than my own though."
It was a case of mistaken identity, David said, and it was him the gunman really wanted. The Allicock brothers and Brimmer started to run in a desperate bid to escape but the gunman focused his attention only on the latter. He abandoned his bicycle and pursued Brimmer on foot.
Brimmer, reports said, ran from Hill Street and into James Street where he collapsed after sustaining a gunshot wound to the back. When Brimmer hit the ground his attacker immediately moved in on him and, according to witnesses, shot the man in the head.
The gunman then dashed back to Hill Street and escaped on his bicycle. David and Herlando have given the police statements and provided them with the man's name. However, up to late last night the gunman still had not been arrested and relatives were worried about the safety of the Allicock brothers.
However, following the incident police took a man into custody. A third Allicock brother, other relatives and residents noticed a strange white minibus parked on Hogg Street shortly before the incident.
There were three men in the vehicle, including the driver, and Brimmer's relatives believe that they were waiting there in the event that the "target" – which should have been David – managed to escape the bicycle gunman.
Just after the shooting the minibus drove off but was later cornered by police in a dead end street. By that time the driver was the only person in the vehicle and was hauled in for questioning. Stabroek News could not confirm whether the man was still in police custody up to last evening.
The attack, relatives believe, was a planned move to exact revenge on the Allicock family for a recent murder of which another brother, Steve Allicock, had been accused. A wanted bulletin has been issued for Steve. His brother and father, Leonard and Rudolph Allicock, have since been charged with the same murder.
Around the Web