Vanessa Gaskin, the Ruby, East Bank Essequibo mother of eight whose home was damaged by housing officials late last month, has received an offer from the Central Planning and Housing Authority (CH&PA) of a house lot, in exchange for her moving from the area.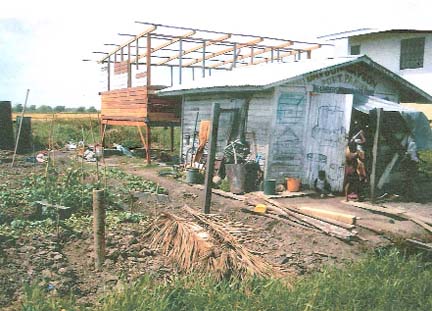 Gaskin's house at Lot 25R Ruby was damaged by officials whom she stated were part of a demolition crew from the Region Three administration on March 24. Gaskin's father, Godfrey Alexander, told Stabroek News Friday that he visited the CH&PA in connection with the issue and he spoke to one Mr Charles, who told him that the housing ministry "was willing" to offer his daughter a house lot in the Region Three area. He said he found the offer "most disturbing" since he believed that he may be facing an uphill battle. Alexander noted that his daughter, who is heavily pregnant, has bluntly refused the offer as she would have "to restart life all over again."
Stabroek News sought to obtain a comment from Mr Charles at the CH&PA on Friday but staff there stated that he was unavailable while efforts to obtain a comment from the housing authorities in Region Three were directed to the CH&PA. An official in the region stated that the issue was unknown to the authorities there. The woman's father told this newspaper that he had all the relevant documents regarding the property intact and as such he would "not live to see them remove my daughter from there." As regards the physical assault his grandson endured when the demolition crew descended on the property, Alexander stated that the family continues to be "side-tracked" by the authorities as the police had not acted on their complaint. The lad was chopped on the right hand close to the wrist, following an argument with the demolition crew on the day in question.
Gaskin lived at the location for more than 20 years and according to her father, he was awarded the plot of land in the 1970s by the Land and Surveys department of the Ministry of Agriculture. The family believes the ongoing issue is the work of persons living nearby who had stated openly that the property was recently awarded to that family "by a big one in the government." The family stated that a resident in the community had been "tormenting" them over the past several weeks and according to Alexander, the individual maintained that the property was "handed to him" by "a lady in the government."
"This is totally unfair to me and my daughter," said Alexander.
Around the Web