Donnette Ward was stabbed nine times about her upper body, and it was a damaged artery and a punctured lung that caused her death, a post-mortem examination (PME) revealed yesterday.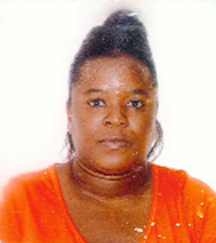 Ward, 36, a Barbados based Guyanese was stabbed to death by her husband with a Rambo knife on Saturday, bringing an end to their turbulent seven-year marriage.
The husband, 59-year-old Geoffrey Ward, who was held minutes later is likely to appear in court today.
Police in a press release on the incident which occurred around 10.30 am had said that investigations revealed that Ward had arrived in the country recently and was residing at her mother's home at Herstelling, East Bank Demerara. Her husband, the release said, allegedly went there that morning and an argument ensued between them during which he stabbed her about the body with a knife. The man also attacked his niece, Stacey De Cambra who managed to escape unhurt.
Ward was taken to the Diamond Diagnostic Centre where she was pronounced dead on arrival. The suspect, the police said, had been arrested and was in police custody while the knife believed to have been used in the incident had been recovered and was lodged with the police.
The dead woman's mother, Princess Peters had recounted years of abuse which the woman endured. She said that it began in Barbados where the couple along with Ward's 14-year-old daughter from a previous relationship had gone to live. The man had reportedly made threats to her life and when the matter was reported to the police on the island nothing was done. On another occasion, the man had held Ward by the throat and threatened to cut her with a broken bottle he had in his hand. During the marriage he never worked.
Peters had said that from the beginning of the marriage she was suspicious of him and after the episodes in Barbados she advised her daughter to get out of the relationship.
Around the Web