Deonarine Mohammed continued to elude lawmen up to yesterday, three days after he set his parents on fire at their Enmore North, East Coast Demerara home.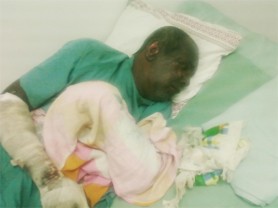 A senior police source told Stabroek News that Deonarine had not been arrested up to late last evening but the search for him was ongoing. His parents, Ousman Mohammed and Gaitree Dhanraj, are patients in the Georgetown Public Hospital's Burns Care Unit, where it is feared that the woman may not survive her more severe injuries.
Police said on Saturday that the incident occurred around 11 pm on Friday, at the family's two-storey wooden and concrete house, which was completely destroyed by the fire.
Ousman and his son had an argument and according to police, it is alleged that during the argument Deonarine "threw gasoline around the home and set it on fire." the blaze was subsequently extinguished by the Guyana Fire Service.
"Is meh son, man. Is he do this," Mohammed told Stabroek News yesterday, when questioned about how he had been injured. He complained about pain and kept asking about his wife's condition. His entire face was scorched and his right hand was bandaged.
Deonarine, the injured man alleged, showed up at the house in a drunken state and asked for food. Ousman said an argument erupted between them and his son became enraged when he told him that he needed to find a job. "He tek de gas and fling it by where she [Dhanraj] been and when he fling it on she some drop on de floor and some splash up on me," he recalled. After throwing the gasoline, Deonarine struck a match and flung it in his mother's direction.
Flames immediately covered the woman and it was at this point that Deonarine escaped.
Meanwhile, his mother, screaming made a dash through the house. Several items were ignited as a result and flames quickly spread throughout the house.
An Enmore North resident, who requested anonymity, told Stabroek News that it was smoke coming from the Mohammed house that alerted the village to the situation. Shortly after, a "scorched" Dhanraj was spotted running from the house. "I didn't get to ask her is what happen," the resident said. "All I could do was wrap a sheet around her and put her in a taxi to go the hospital."
Ousman, the resident recalled, went to the police station, where he made a report before he too was rushed to the Georgetown Public Hospital. "I know these people for years," the resident said, "and this is the first time I know anything like this happening to them…I never hear them and the son [Deonarine] quarrelling."
The couple's other children, who live at different East Demerara locations, have been visiting them at the hospital and seeing to their needs.
Around the Web