– mother calls for justice
The mother of a suspected robber who was beaten to death by angry residents of South Ruimveldt Gardens on Sunday night is crying out for justice for his murder.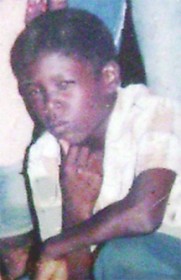 Two South Ruimveldt Gardens residents have been held in connection with the death of Simon Lawrence, 18, called 'Bubba,' who was reportedly one of three men who robbed a computer technician on Sunday night.
In a statement, police said yesterday that around 10.15pm, computer technician Marvin Lyte was walking along David Rose Street, South Ruimveldt, on his way home, when he was held up by three men, one of whom was armed with a handgun. The men took away a laptop computer, a cellular phone and personal documents, and then ran away.
The victim, police reported, raised an alarm and neighbouring residents responded and chased the perpetrators, one of whom was caught and reportedly beaten. He was taken to the Georgetown Hospital, where he was pronounced dead on arrival. Police identified said the man was subsequently identified as Lawrence of Rasville Squatting area, Georgetown; and they gave his age as 25. An unlicensed revolver was found in his possession and was lodged, police added.
"This is murder," said Lawrence's distraught mother, Michelle Parks, who said he was only 18. "… If you catch a man doing something you can't tek the law into your own hands," the woman told Stabroek News. At the hospital mortuary, she said, she did not recognise his body. She made a positive identification only after she had looked at him from a different angle. "If you see what dem do to he one side face. It bash in… This thing has crushed me," Parks added.
She reported that Lawrence had been living with relatives in an East Bank Demerara community, but she could not say where. Previously he lived with her at Rasville. She said that if her son had been implicated in a crime, he should not have been beaten to the point of death.
Parks said that when she went to the police after receiving the news of his death, she begged them to produce the evidence showing he was guilty of an offence but nothing was shown.
"What dem had to kill he for?" she said, close to tears. Parks added that the police told her that they are investigating the incident and had two residents in custody. She related that she was also told that when the police went to the area to investigate, residents did not go out to speak about what had happened.
"But ah hope ah gon get some justice," she said, adding that her son had never been involved in robbery or had run-ins with the law. She described her son as an on and off mason and she said he loved to make people laugh.
A post-mortem examination is to be conducted tomorrow to determine the cause of Lawrence's death.
Around the Web