The Joint Services conducted an operation in the Stabroek Market area, resulting in the arrest of 36 people yesterday.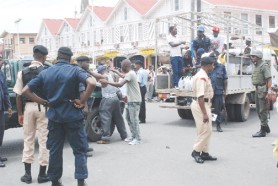 The one-hour operation, which began around 11 am, disrupted the flow of traffic in the area, causing congestion along the streets leading to the area. Persons passing in the vicinity were stopped and searched by the police ranks, who told Stabroek News that the event was a routine operation.
In a statement last evening, police said several stalls were searched and a number of persons stopped and searched during the operation. A 'Rambo' knife, a portable DVD player suspected to be stolen, and a quantity of tobacco leaves used to wrap marijuana were found and lodged with the police. "Thirty six persons, including a woman, were arrested and are in police custody pending investigations into various matters," the statement said.
Many persons in the area were caught off-guard during the operation and several persons, including two trainee teachers attached to the Cyril Potter College of Education (CPCE), voiced their displeasure after they were searched by the police.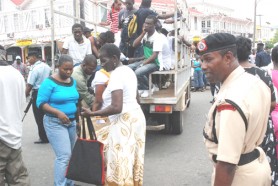 As the operation came to an end, plain clothes ranks arrested a man in the Vendor's Arcade whom they stated was a robbery suspect and a "known figure." The man ran into the arcade and was pursued by the ranks as well as public-spirited citizens, leading to his arrest.
Several persons were placed in a canter and whisked away by the officers on the stroke of midday.
Around the Web