Health Minister Dr Leslie Ramsammy has approved the Medical Council of Guyana's recommendation for the censure of Police Surgeon Dr. Mahendra Chand, for professional misconduct in the treatment of a teen boy who was tortured in police custody last year.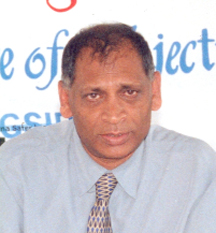 "I am giving my No Objection to the Council to carry out the recommendation," Ramsammy said, in a statement issued last evening. He stated that the Council decision was "a serious action taken against the doctor." Noting that Chand is seconded to the police by the Georgetown Public Hospital Corporation (GPHC), Ramsammy said the institution "might want to consider any other action it might deem necessary."
Dr. Chand was investigated by the Medical Council for professional misconduct, following his actions in the treatment of a boy who was tortured by police officers at the Leonora Police Station. Ramsammy's statement referred to the case as that of "a young man that was allegedly "tortured" by police officers."
The Minister said he received a letter dated April 20 from the Medical Council, giving its decision in the case. He said that as Health Minister he is not in the habit of disagreeing with the Medical Council or any of the other regulatory bodies. "I believe the Council has done a thorough investigation and has considered all aspects of this case," he said. "They have sent a serious message to medical practitioners in Guyana. I believe the Council has established the protocol that would reduce the chances of success when those who the Council have censured and suspended in the past approached the courts to reverse the Council's action."
The Council had earlier recommended that the doctor be suspended for two months, but subsequently rescinded that decision and recommended that he be censured. The new decision was made after the minister returned the report originally sent to him by the Council, asking them further questions. Ramsammy had disclosed that he sent back the initial recommendation made by the council and requested more information. He noted that the doctor was placed in a position where he was "damned if he did and damned if he didn't."
After being taken into custody in connection with a murder investigation, the teen was stripped and beaten before being burnt in his genital area at the Leonora Police Station. He was subsequently seen by Chand, although he had a bag over his head. An investigation by the police force's Office of Professional Responsibility found that the torture of the teen and the two men was known by several police ranks, who were indifferent and complicit.
Around the Web