A woman was killed yesterday in a horrific early morning accident opposite the Sparendaam Police Station, after the vehicle she was travelling in struck a lantern post before crashing into a chain-link fence.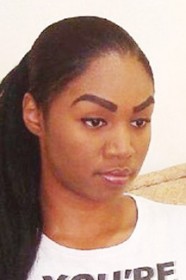 Dead is Kishana DaSilva, 25, of Lot 158 Rupununi Street, Bel Air, Georgetown. A large splinter of wood from the shattered lamppost pierced her body in the region of her lower back and she reportedly died at the scene.
The dead woman's fiancé Keith King, 43, who was driving the vehicle, was in police custody, but being treated for chest pains at the hospital. Alana DaSilva, 25, a relative, sustained minor injuries and was treated and sent away.
Police, in a press release, said that the fatal accident occurred around 02:40 hrs on the Plaisance Roadway, East Coast Demerara. Investiga-tions have so far revealed that the motor pick up PKK 7778 was reportedly travelling at a fast rate of speed when it went into a pool of water which had accumulated on the roadway. The driver lost control of the vehicle and it struck the post and then crashed into a fence.
The two women were taken to the Georgetown Public Hospital, where Kishana was pronounced dead on arrival. Alana was treated and discharged.
At the accident scene yesterday, the badly damaged black V8 Titan pick-up was in station compound. Broken glass littered its interior. Tyre tracks were evident where the vehicle swerved off the road. The shattered lamppost, split in two, and smashed fence revealed the impact of the crash.
Stabroek News was told that the three were making their way to the city from Berbice along with another person. Kishana DaSilva is originally from Lancaster, Corentyne.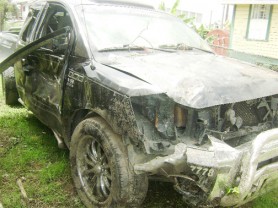 King, who appeared at first to have escaped injury, began to complain of chest pains several hours after he was detained and was taken to the hospital for treatment.
Alana DaSilva, who sustained an injury to her foot, told investigators that at the time of the impact, she was asleep. She reportedly recalled the vehicle going into an uneven spot in the road. This would have been seconds before the crash.
According to eyewitness accounts, a splinter of wood from the damaged post entered DaSilva's lower back and exited through her shoulder.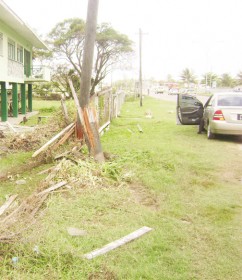 DaSilva, a former Kaieteur News reporter, was screaming for about ten minutes before she went silent, the witness said. Persons worked tirelessly for about 15 minutes to free her from the wrecked vehicle but by the time she was rushed to the hospital around 3:25 am, she was already dead. Alana arrived at the same medical institution about five minutes later.
A relative told this newspaper yesterday that they got news of the tragedy some time after it had occurred. The relative stated that DaSilva's parents, Lynette and Samuel, reside in Trinidad and Tobago along with her brother Keion. Lynette is expected in the country shortly.
DaSilva was described as a very outgoing and friendly person.
Around the Web