The Labour, Occupational Safety and Health Depart-ment within the Labour Ministry yesterday held an occupational, safety and health fair in observance of World Occupational, Safety and Health Day.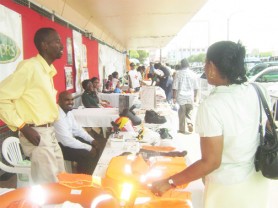 The fair, held outside Fogarty's Department Store on Water Street, comprised booths from 15 enterprises in both the private and public sectors. The Labour, Occupational Safety and Health Department within the Labour Ministry provided information on safety in the home and workers rights among other things.
Also on show were the Guyana Water Incorporated, Guyana Red Cross Society, the Forestry Commission, Gafoors, and Bosai Minerals Group Guyana Inc among others. All the enterprises provided information of how they take safety precautions in their various fields. On display too were safety clothing and equipment as well as information on HIV/AIDS; voluntary testing and counselling were also available.
A representative from the OSH Department said that yesterday's event was the largest in a month of activities aimed at educating persons of the safety precautions that should be taken at work.
Meanwhile, the response to the fair was said to "quite good" with a "constant flow of people wanting to know" the representative added. A similar event was also held yesterday in Mahdia along with an outreach programme and health inspections, the representative added.
Around the Web