Prominent Berbice lawyer and Commissioner of Oaths to Affidavits, Joseph Anamayah of Hampshire Village Corentyne died at his home around 11:30 am on Monday last.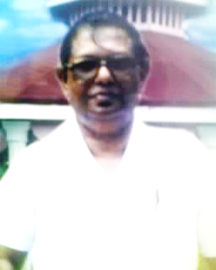 He was 68 years old.
One of his three sons, Attorney-at-law Adrian Anamaya told this newspaper that his father had been ill for some time now and had undergone heart surgery overseas last year.
Joseph Anamaya who also served as a Justice of Peace and Notary Public had been recovering well after the surgery but collapsed suddenly on Monday.
Born on December 7, 1942, the late attorney had travelled to England to pursue studies in the legal profession at the Lincoln Inn.
On his return to Guyana he commenced practice in Berbice and had set up office at Charlotte Street, New Amsterdam and at his home at Hampshire.
He also leaves to mourn his wife, Ankama and two other sons – Attorney-at-law Ian Anamaya and Dr Ryan Anamaya, medical superintendent of the New Amsterdam Hospital.
He will be laid to rest on Saturday.
Around the Web