The formal launching of the constitution for the National Disabled Persons Network (NDPN) was held last Friday at the Community Based Rehabilitation Centre at Golden Grove, East Coast Demerara.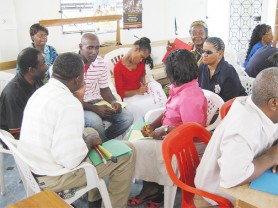 The NDPN, a non-governmental organization (NGO) would now function as the umbrella organisation for the Regional Disabled Persons Network (RDPN) of Region Two , Region Four (East Coast and East Bank), Region Five, Region Six and Region Seven.
Members of the six groups who attended the launching on Friday were told that their branches are the "fundamental to this new organization" and that the establishment of the NDPN "as a formal NGO means a big step forward."
The RDPN had been set up in the six regions "to stand up for their interests. Typical for these groups, is that they are geographically spread and are a platform for all disabled persons," according to Organisation Development Officer, Aart Lohmann. "Whether blind, deaf, mentally or physically disabled, everybody is welcome."
He pointed out that the "regional approach assures better accessibility for members, some tuning to local circumstances and embedding in the relevant regional networks."
In Guyana, like in many other countries, he said, it is still difficult for disabled persons to access proper education, health care, employment and social activities.
He is confident though that the "misperceptions and obstacles will gradually demolish through a powerful appeal for equal rights, supported throughout the country."
Lohmann said the RDPNs have been advocating for these at a local level in the public domain, the media and the schools. Furthermore, members also come together for social, recreational, skill training and income generating activities.
At the national level, he said, "the input of the regions can be put together and be transformed into an appeal in the interest for all disabled persons in Guyana."
The NDPN would also support the regional organizations with fund-raising, banking and other regional activities. He pointed out too that the NDPN "is a further development of a young cross disability movement in Guyana" which "will strengthen the Guyanese efforts to improve the living conditions of disabled persons."
Meanwhile at least four of the RDPN have been conducting projects for members with Region Six offering computer courses and Region Two providing gardening crops; Region Five members have been making concrete firesides and other craftwork while Region Seven is working on acquiring a plot of land and a building to accommodate members.
Members of the DPN would be assisting in training persons for the national "School Screening Programme" that will start in September through the Ministries of Health and Education.
They would first have to "conquer the biggest problem" of transportation costs though. The project which would be coordinated by Dionne Browne of the Ministry of Education would help to sensitise students and teachers about the rights of disabled persons.
Around the Web