Rehabilitation of drainage structures along a section of the East Bank Demerara public road is expected to be completed within short period as several pre-cast concrete units to be used for the project have arrived in the country.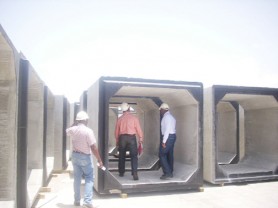 During a briefing with the media on Main Street in the city, where the first set of units for the project were on display, General Manager of Courtney Benn Construction Company Darren Nurse stated that the 26 pre-cast  7' x 7' boxes were sourced by the company from a manufacturing entity in Florida in the United States. Two sets of concrete boxes with different specifications are expected to be delivered to the local company within the next few months, those being 5' x 5' (39) and 9' x 7' (21).
Rehabilitation is being carried out to 13 structures along the roadway between Garden of Eden and Timehri and the boxes will be used for 12 of those structures as the other will see the installation of 4' diagonal HDPE pipes.
Nurse said that utilization of the boxes will see the project, which is valued at US$2.837 million and which has some 12 months remaining, being completed within three months. He said the project entails the road being dug up; the units fitted in and pulled together.
A water tight seal will then be used to hold the units together to prevent any leakages.
The boxes exceed the 6,500 psi strength specified for the project as the concrete strength of each unit lies in the range of 7,500psi to 11,300 psi and they each vary in weight between 6 to 9 tonnes.
Around the Web