Guyanese playwright and actor Sir Ian Valz, who was an integral part of the development of local theatre in the eighties, passed away on Wednesday night after a battle with cancer. He was 52.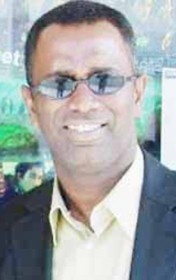 Sir Ian had been ailing and was reportedly diagnosed some two years ago. He died in hospital and those close to him said his final days were difficult. He died in St Maarten, his adopted home, some time close to midnight.
Valz's involvement in local theatre stretches back many years from the early radio serial drama, House of Pressure to popular stage shows such as Two's a Crowd and Masquerade. Masquerade was nominated for the Guyana Prize for Literature in 1992 and took the runner-up position in the drama category that year. Valz went onto to release a film, Panman, Rhythms of the Palms, which was successful in the region and later won an award in the United States.
Valz's film was screened here for Carifesta and around that time he spoke with this newspaper chronicling the struggles he had faced in seeing the project to fruition. He had revealed then that Panman was a play and which he had feared would have remained a play because of the many hurdles. However, he managed to release it in June 2008 and after that the film's rise was tremendous.
Gem Mahdoo-Nascimento recalled his early years in theatre saying yesterday that he stimulated interest in theatre among young playwrights during the 1980s. She said his plays were highly successful, noting his first major project was the radio serial drama, House of Pressure. Mahdoo-Nascimento noted that Valz's plays also had commercial pull and according to her, he was responsible for attracting a grassroots audience to the National Culture Centre.
She said he was part of a new burst of new energy in theatre which included playwrights such as Michael Duff, Ken Danns, Ronald Hollingsworth and Paloma Mohamed among others. "He will be missed," she said, adding that Valz had sent her some of his work for her to peruse and eventually release. "I did not get a chance to look at it yet, but I will have to soon and release them in his memory."
Columnist and literary critic, Al Creighton also mentioned the impact Valz had in stimulating interest in theatre among a different audience. He said when many of the shows moved from the Theatre Guild to the National Cultural Centre, Valz was a major part of the cultural influence. "He contributed significantly to the development of local theatre in the 1980s, was not a major playwright or of one of the outstanding actors, but his contributions to the rise of theatre here are well noted," Creighton said. He said also that Sir Ian's knighthood in his adopted home St Maarten was testimony to his tremendous contributions on the island and by extension the region.
Former mayor, Mavis Benn recalled Valz's earlier years as a public health inspector. She later appointed him as the first Sports and Cultural Officer of the Georgetown City Council. "From that day onwards the municipality enjoyed a level of professionalism and awareness in the arts," Benn said yesterday. She called Valz a humanist, who was extremely compassionate. "I caused him to re-discover the potential that he had and was lying there," she added, noting that his involvement in the arts took off after he assumed the position and according to her, his appointment was the birth of the City Council's Culture Corps.
She said he had a wonderful sense of humour and recalled him asking her one day not to grow old like a flower because it blooms in the morning and withers in the evening. "I said I will make you that promise," Benn related, adding that whenever she looks in the mirror she remembers Valz and the fact that she has to take care of herself.
She said that when Valz worked in Guyana enough was not done to hold him here, noting that he was one of those extremely talented Guyanese "we lost to the soil of another nation".  Benn opined that his legacy ought to be emulated by younger people".
Ron Robinson was close to Valz and yesterday he recalled that their friendship dated back to the days of House of Pressure when Robinson worked alongside him as a sound engineer on the drama and also as a director. Robinson directed several of Valz's projects and he said yesterday his loss is a major one. "He was humble, extremely creative and also every insightful," he said. According to him, Valz's plays were challenging, in that, they demanded more of the actors.
He said Valz was happy to be home for Carifesta in 2008 and to have his film screened here during the Film Festival. "I am going to miss him tremendously," Robinson said. He said plans were under way for some time now for the original recordings of House of Pressure to be aired on the radio. He said the drama will now be aired as a tribute to Valz.
Another close friend, Jasper Adams said yesterday that Valz was intense, focused, driven, and talented. "I learned a lot from him. When some of the self-appointed purveyors of 'culture' in society pooh-poohed our endeavours because we were getting paid for doing theatre, he spoke to me of the validity of the cultural worker in a young society," Adams said via email.
He and Valz were together at the beginning of an established professional theatre in Guyana, he said. "He taught me even when he was not teaching," he added. "Mih buddy gawn and walk wid de ancestors," Adams wrote. He said Martin Carter's "Too soon, too soon…[from Death of a Comrade]" keeps ringing in his head.  He said plainly that Valz's death "hurts!"
Expressions of sadness have also come from the Ministry of Culture.
Describing his death as "premature", the ministry, in a press release, hailed Valz "as the consummate Caribbean professional", and noted that he was "blessed with abundant creative energy" and "was truly a Guyanese artist with the whole Caribbean as his stage."
"Ian Valz never gave up his Guyanese character or linkages as he visited his homeland to share his knowledge and rich theatrical experience with local dramatists," the Culture Ministry said. "He, no doubt, recalled his own groundings in drama and theatre production at the old Theatre Guild of Guyana," the ministry stated.
The ministry offered its condolences to Valz's family, relatives and colleagues.
Fondly called Sir Ian by those close to him, Valz was knighted in 2006 by the Dutch Queen for his services to Dutch culture as one of the most successful playwrights, actors, and radio personalities in St Maarten.
He had held the position of Director of the Independent Theatre Foundation in St Maarten. Valz directed over 60 plays and, acted in over 30.
Before leaving Guyana in 1984, he had held the position of Sports and Cultural Director; he later became Drama Director at the Cultural Centre in St Maarten, where he created The Teenage Acting Company for the youths on the island.
Around the Web