With the aim of providing rest, comfort and security for its crew, Roraima Airways in partnership with Caribbean Airlines yesterday opened a crew lounge in the upper flat of the terminal of the Cheddi Jagan International Airport, Timehri.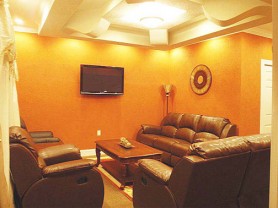 Designed by interior designer Debbie Singh, the lounge features a sitting room, three bedrooms, two washrooms and a kitchen and comes complete with computer with internet access. The design is in keeping with providing a truly relaxing atmosphere for the crew.
CEO of Roraima Airways, Captain Gerry Gouveia in remarks said that the well-being of the crew is usually ignored and he wanted to provide a service which caters specially for their needs. He said the new lounge will enable crew members to fulfil the legal requirements relating to periods of rest.
He added that the normal practice is for the crew to travel to the city to get their rest, however with the opening of the facility travel time is reduced.  Crew members can now rest in a sound and light controlled environment.
Gouveia added that the airport is the face of Guyana and efforts must be made to strike a balance between security concerns and customer service.
Meanwhile Komal Ramnauth, President of Georgetown Chamber of Commerce and Industry said the opening of the facility will ensure that crew members are not jet-lagged. Ramnauth added that Roraima Airways has always been a pioneer in the hospitality industry and the addition of the lounge is just another example of its commitment to the development of the industry.
Ramesh Ghir, CEO of CJIAS said he was surprised at the transformation of an empty office space to a classy lounge, which he said was made possible through the vision and work of the team at Roraima Airways.
Lounge aside, Ghir said there are several projects currently ongoing at the airport which all seek to improve passenger comfort and the face of the airport while being cognisant of security concerns. He added that despite the global downturn in 2009, the local industry has done well and that so far Guyana has seen a 10% increase in passenger movement for the year.
The projects in progress include the upgrading of the washroom facilities and the opening of two more duty-free shops which will be done shortly. Within two weeks, Kings Jewellery World is expected to open its airport branch.
The endeavours of the Roraima group will not be limited to the CIJA since the company has undertaken a number of projects to improve passenger experiences at Ogle Airport.
The CJIA crew lounge can be found in the main terminal of the airport while the executive lounge which caters to passengers can be found in the restricted area. The executive lounge provides amenities in a comfortable setting for passengers.
Around the Web