A 70-year-old farmer drowned in a trench in the back lands of Ann's Grove, East Coast Demerara yesterday, after he fell out of his boat while complaining of dizziness.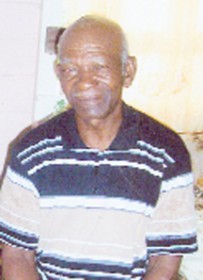 Dead is Cardwell Jones, of Lot 31 Middle Walk, Ann's Grove. His death yesterday threw the entire village into mourning, as he was a well known and respected elder.
At his home, relatives and friends were gathered discussing the tragedy. The dead man's son Deon was not sure of the contributors to his father's death but he mentioned that the man occasionally suffered from hypertension.
Deon Jones recalled that when he left for work around 5 am, his father was in high spirits and appeared well. An hour later he received the sad news of his demise.
Deon explained that his father had been farming in the village's back dam since he (Deon) was a little boy. He planted fruit and coconuts.
Early yesterday morning, Jones left home in the company of his 10-year-old grandson en route to the farm, located some two and a half miles away.
At some point during the trip, Deon explained, the man began to complain of feeling dizzy. Shortly after, he fell into the water. The child was unable to save him.
The boy subsequently returned home for help but by the time persons arrived at the scene, Jones had already drowned.
Police were informed of the incident and later visited to conduct an investigation.
Jones leaves to mourn his wife Priscilla and seven children.
Around the Web