The Georgetown Public Hospital's Paediatrics Ward yesterday received a quantity of items donated to the children of the ward from the children of Japan.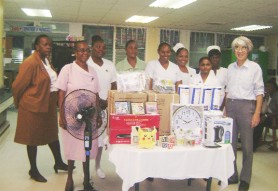 The presentation was made to the nurses heading the Paediatrics Ward and the Natal Clinic. Making the presentation to the nurses was Dr Saburo Shibazaki, a paediatrics and neo-natal specialist who has been working at the hospital since February. He is scheduled to return to Japan shortly.
According to Dr Shibazaki, the money used to buy the fifteen items was donated by the pupils of the Tanaka Primary School. The children had planted corn and after reaping and selling the crop donated the money to the Georgetown Hospital.
Dr Shibazaki is a member of the Japanese International Corporation (JICA) and has conducted training sessions with the nurses of the hospital. He had a two week session on neo-natal training and a one week paediatric training session.
The doctor also handed over handouts used in the training to the nurses.
Expressing gratitude to the doctor and the children of Japan for their donation, Audrey Corry, Director of Nursing thanked the doctor and the children for their generosity, while the nurses presented the doctor with a token of appreciation. Corry stated that she knew that his contributions will improve nursing care.
Items that were brought with the money included a fan, a kettle, two water dispensers, a DVD player and educational DVDs, cups, plates and paper tissue. Dr Shibazaki is expected to leave the country next Tuesday and he says that he hoped to make something good for children in Guyana with the donation.
Around the Web