The Parliamentary Sectoral Committee on Economic Services visited the Skeldon factory on Wednesday and the general consensus was that the modernisation project is moving along and the industry should do well in the future.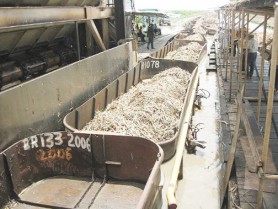 The Committee, which comprises government and opposition Members of Parliament, deals specifically with economic aspects of the country and it opted to pay its first visit to Skeldon because of some of the concerns raised about the factory and recent media reports.
Presidential Advisor Gail Teixeria told the Government Information Agency (GINA) that some of the concerns about the factory were raised in the opposition camps as well as people in government. "Some of those concerns have been expressed by opposition leaders and even to some extent government officials.
But after today's visit everyone has come away feeling impressed and much more confident with the factory, its future, how it is coping to further expand and diversify the industry," Teixeria said.
Teixeria pointed to co-generation plant at Skeldon, saying it is performing well and that it currently provides energy to the Guyana Power and Light's national grid. She said the GuySuCo has always been a major concern of the committee, given its contributions to the country's Gross Domestic Product. According to her, the committee will submit a report to the National Assembly and will also become a consensus building [forum] to ensure the country moves forward.
PNCR-1G MP Winston Murray told GINA he was impressed with what was unearthed during the visit, noting that it was prompted by the need for a first-hand view of the factory and its prospects for the future.
"I believe that the project has a number of very competent technical people manning it and that is good. They have to ensure that they maintain that factory because it is so digitalised or computerised that you really need a high level of technical skills to oversee it…" Murray noted.
Murray said he was also impressed with the honesty and commitment of the people who are managing and operationalising the project. He added that the factory incorporated some of the best technologies from the world of sugar production, to provide a high efficiency manufacturing process that makes the best recovery of the sucrose and the energy from the raw sugar cane.
Murray did point out that the viability of the Skeldon project depends largely on the ability to produce 1.2M tonnes of cane annually to feed it and to optimise the level of production.
However, he said he was impressed that the factory is already at the level of ultilising 200 tonnes of cane per hour.
The Skeldon factory, which was officially commissioned last August, was beset by several start-up problems prior. There were reports that the factory had certain defects, but GuySuCo had reported that many of the problems were being addressed.
Around the Web