Over 80 persons received treatment during at a Guyana International Relief Organisation (GIRO) medical outreach held at Britannia, West Coast Berbice, in Region 5.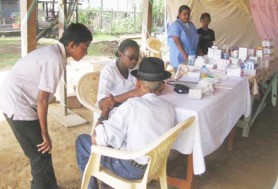 The outreach was part of the Guyana Islamic Trust's (GIT) activities for the annual Islam Awareness Week (IAW), which was held under the theme, "Discover the True Side of Islam."
Zaman Yusuff, Deputy Chief Executive Officer of GIRO, an arm of the GIT, said similar outreaches were also conducted in areas such as Providence; East Bank Berbice; Timehri; East Bank Demerara, Danielstown; Essequibo Coast, West Coast of Demerara and Linden, and over 700 persons benefitted.
Yusuff said the purpose of the medical outreaches is to target poor and needy persons from communities where healthcare is not easily accessible.
He said the service was well received and he was happy with the responses in the various communities. According to him, residents have even asked for outreaches to be held more often. "GIRO can make the service more widely available if we can get donations from more medications and if more medical personnel can contribute their services to make the programmes a success," Yusuff pointed out.
At Britannia, patients under one year old and up to 80 years old, were seen by Dr. Alexander Sinclair of the Fort Wellington Hospital and Dr. Reyaad Subhan of the Mahaicony Hospital.
The patients were treated for ailments such as colds and coughs, back aches, high blood pressure, diabetes and skin infections.
The doctors were assisted by a nurse from the Fort Wellington Hospital, a trainee nurse of the New Amsterdam Hospital, Rafena Gaffar and a pharmacy assistant of the Georgetown Hospital, Sheneeza Saywack.
Members of the GIT also visited patients at the Fort Wellington Hospital and offered prayers and presented them with gifts as well as information on Islam.
Other activities for IAW included feeding the needy, hamper and clothing distribution, visits to schools and hospitals, evening lectures and blood donation drives. The purpose of IAW was to raise "national interest and awareness of Islam as a divine, unique and complete system of life."
Apart from IAW, the GIT and GIRO also conduct outreach programmes throughout the year to benefit Muslims and non-Muslims alike.
Around the Web