Rockel Gladstone, 20, requires dialysis treatment twice weekly in Georgetown because of her non-functioning kidneys but her family is struggling to cover the costs.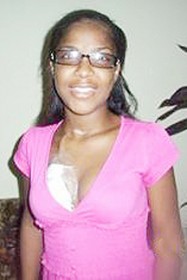 Her mother, Cheryl Gladstone, 41, of Kimbia, Berbice River, told Stabroek News that the dialysis costs $36,050 per session and she also has to pay $6,000 each time she and her daughter travel from Stanleytown, New Amsterdam, where they are staying with relatives.
Her savings are almost exhausted while her husband, Frank Gladstone is not making enough money from their provision and peanut farm at Kimbia.
Rockel, the third of five siblings, returned home two weeks ago from Barbados, where she had gone since last September to be treated at the Queen Elizabeth Hospital. The woman said her daughter was on a life support machine for six weeks at the hospital. "I felt I would have lost her," she said.
According to Cheryl, "Now that she is doing better, I feel real good." But she is aware that her daughter "cannot be on dialysis treatment all her life" and is "ready for her to have a kidney transplant." The woman said she and her husband both willingly agreed to undergo tests to determine who would be an eligible donor.
It turned out that Rockel's father would be the one who can donate his kidney. However, their limited finances are holding them back and Cheryl is pleading with the public for assistance so her daughter's misery could soon be over.
She is trying her best to have the transplant done locally and had visited the Ministry of Health, where a request was made for a referral letter from the hospital. She visited the hospital four times but did not get through with the referral because the doctor was "not on duty" at the time.
The woman said she is determined to have the transplant done and may have to look at the option of taking her daughter to India, because she does not want to delay her chances of functioning like a normal person. "My daughter went through so much already and I am willing make some sacrifices and to go the extra mile for her," she woman said. "I never sit down with her; every time I got a little money I moved with her to several doctors to get different opinions [when she first became sick]."
Rockel started suffering from swellings to her face, feet and abdomen at age 12, just after she finished writing the Common Entrance examination. She was subsequently diagnosed with an inflamed kidney. She began receiving treatment three times per week.
She subsequently gained admission to the Kimbia Missionary Academy, a boarding school, but was unable to attend and her parents had to home school her. Rockel continued the treatment and "was just getting relief on and off" until her condition worsened last year, when it was discovered that both of her kidneys had stopped functioning.
Rockel was supposed to start dialysis treatment at a private hospital but unfortunately the machine was not working at the time. Her parents then had to "book an emergency flight to Barbados" after the doctor advised them that she would be able to get immediate relief from her pain in that country.
Since she returned from Barbados, she has experienced less pain but she still suffers from high blood pressure, accompanied by "headaches and bad feelings but once she takes the medication she would be fine."
Rockel attends church regularly and according to Cheryl, "She has a strong spirit; all she has on her mind is that she would get well."
She said too that "from the time she got sick members of different churches and individuals prayed for her, and I wish to thank all of them. I want to tell them not to forget her now that she has recovered a little but to keep on praying for her."
Cheryl reiterated that the cost to take Rockel to Barbados was very high, noting that her husband was not working at the time. She said his sister, Iona Yarde, assisted with some of the bills but she too was out of a job.
So far she has received "a little financial help from residents in my community" and expressed gratitude to them. Persons who would like to assist Rockel can contact Cheryl on telephone number: 666-6653.
Around the Web