-woman had suffered years of abuse
The mangled body of a young mother of three was discovered a stone's throw away from the Vigilance Police Station and it is believed that her husband of fourteen years dumped her out of his vehicle and then reversed crushing her head in the process.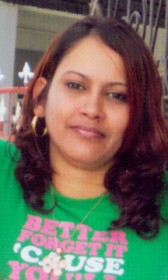 The death of 29-year-old Bridgette Gangadeen of Lot 3 Lusignan, East Coast Demerara was a tragic ending to the life of a woman who from the tender age of 14 was subjected to years of horrific abuse at the hands of her husband.
While the woman's husband told the police that his wife jumped out of his canter truck and he accidentally ran over her head, the woman's relatives believe that she was murdered and then taken to the location and dumped by her husband who then reversed over her body.
"If you see me daughter face, you can't recognize she, a he kill me pickney," the woman's 69-year-old mother Punarbattie Bharrat said yesterday.
Police in a release yesterday said that they are investigating the murder of Gangadeen whose body was discovered at around 2.25am yesterday on the verge along the Vigilance Public Road with suspected marks of violence. The release said the woman's husband is in custody assisting with police investigations.
Yesterday the woman's relatives recounted a far too familiar tale of years of abuse the young mother suffered at the hands of the man who had pledged to love and protect her. They told chilling stories of how the woman was beaten, chopped, kicked, threatened with a gun and even more recently received a sound thrashing from a woman with whom her husband has been carrying on an extra-marital affair.
And while they lambasted the police at the Vigilance Police Station for not doing enough and for "taking money from he," in the same breath they admitted that many times it was the young mother and even some of them who begged the lawmen to keep the man out of jail.
The call Bharrat received early yesterday morning from the police at Vigilance, while shocking, was not surprising as she knew one day her daughter would have died at the hands of her son-in-law.
The woman said when she arrived at the scene her daughter's body was covered and while she could not bear to look at her, other relatives said the woman's face was unrecognisable and it appeared as if her throat had been slit.
According to the relatives the couple left their Lusignan home some time on Saturday night, locking their 12 and nine-year-old sons in the house, and travelled to Enterprise where they were expected to go shrimp catching with some friends. However, the trip was aborted and the couple left and it was believed that they were heading home.
About an hour later the husband returned to the Enterprise home without his wife and when questioned about her he did not answer.
"The girl say he just tell she fuh 'hide me, hide me' but she mother call deh police because dem believe something happen to Bridgette and dem police went and lock he up," the dead woman's mother said.
She pointed out that even if her son-in-law's story about her daughter jumping out of the vehicle was true, why did he drive away without assisting her. It is believed that the woman and the man were in the canter truck but he later parked it at his home and used his car to return to Enterprise. The truck is now in police custody.
Beaten
According to the mother it was only four days ago her daughter returned to her husband's home as she had moved out – as she has done time and time again in the past – after being subjected to a severe beating.
"But he come and he beg she – he does always beg she when she move out – and after he beg she, she go back home. Meh tell she, girl don't go back, but she still go back and now this happen," the woman said.
But she said her daughter had a premonition that she was going to die as only recently she told her to cremate her when she dies.
"She tell me mommy cremate me when a dead because… [he]  go kill me, and me tell she nah talk stupidness but I know she been right dat someday he been woulda kill she," the woman said.
She said her daughter would move to her Annandale home whenever it was too much for her but she would always return to the couple's home.
Joining the conversation the woman's uncle, Heeralall Sookdeo spoke of the many times he had rescued his niece from the man who "frighten everybody except me."
The man, the uncle said, is presently on a two-year bond after being taken to court by his wife following one of the many beatings.
"But she beg fuh he because deh magistrate bin a give him five years in jail but she beg and the magistrate put he on two year bond and tell if he beat she again he guh get deh five year," the uncle said.
"This domestic thing must stop, is why dem man beating dem woman like a dis, is must stop," the uncle declared yesterday.
And it is not only the police intervention the couple had in their 14 years of marriage but they were also being counselled by the probation department of the Ministry of Human Services and Social Security.
Sweet woman
The mother told Stabroek News that some years ago her daughter, who was born in Suriname, left her husband and two children – the couple's oldest son who is 14 lives in New York with the man's parents – and headed to the Dutch-speaking country where she spent some time. While she was gone the man hired a woman as his maid, but he later struck up a relationship and had a child with the woman.
He travelled to Suriname on numerous occasions, however, and begged his wife to return, and one day she did and moved into the home with the "sweet woman."
"She use to mine deh baby and look he after and she and the sweet woman turn friend because she say is she mek he do it because she move out," the mother said.
She said the woman subsequently moved out and it was later learnt that her son-in-law continued the relationship with her and left his family unattended for the woman and her son.
"She use to tell he even if he want she, spend some time with dem too, but when she talk he use to beat she."
Not long ago the woman called her husband and realized that he was at the woman and she decided to visit the home.
"She come by me with face scratch up and she eye swell up and she tell me how he hold she down by the sweet woman and the woman and she mother beat she up," the mother said in tears.
But is not just Bridgette the man abused, threatened and beat, but also her family.
The mother spoke about the many times she was verbally abused by the man who threatened to kill her and once he pushed her down as he ran into  her house to gain access to his wife.
She told of how he broke her door down and broke all the windows in her house. The matter was reported but his relatives repaired the windows and the mother later begged the police to "done deh story."
One time he cuffed his drunken father-in-law in the face causing him to fall on the road because he rebuked him about the treatment of his daughter.
However, even as all of this went on the mother admitted that she would tell her daughter to return and "leh dem live good." She said while her daughter was in Suriname she would assist her son-in-law with the cooking and washing and would even give him money at times. The dead woman's younger sister related an experience of being held at gun-point along with her sister at the couple's home.
She managed to call the police who visited the home but by then the man had thrown the gun "up in deh ceiling."
"Dem arrested he and it was an unlicensed, but nothing come out of the story because he gat money and he does pay," the sister alleged.
A chilling story was told of an incident where the man reportedly drove his vehicle with his family into a herd of cows on the Buxton Public Road
"He kill three a dem and she grab dem two boys and ran and come by me and if you see blood pun dem skin; when you go the vehicle get blood and cow meat in it but  nothing ent come out of the story," the mother said.
Bridgette received a black and blue face as a Christmas gift from her husband last year; the Christmas beating was never reported to the police. But even as story after story was being related the young woman's mother sadly admitted that if her daughter really wanted to leave her husband there was nowhere really she could run to because of the tormented life she herself experienced with her husband.
"Up to last night if you know how this man cuss me fuh three hours – a can sleep. He never beat me but he does drink and cuss me and he use to get woman and all a thing too; me daughter must be nah able with he behaviour," she said. As she spoke her husband, who appeared to be under the influence kept mumbling, "Since fourteen year she marry and she never one day live a sweet life."
But even more sad, according to the relatives, is the fact that the man had even managed to turn the couple's two sons against their mother.
"They would cuss she too and disrespect she and when dem come out on deh road is just to watch man she and tell dem daddy," the mother said.
She said yesterday morning at the Vigilance Police Station the boys refused to believe that their father killed their mother and were even disrespectful to her in front of other relatives.
The couple's children, who were removed from the house by the police, are now staying with their father's sister. The woman's mother said she just wants to bury her daughter and move on with her life. She said she has no problem with the young man's relatives as they, especially his parents, were always "nice to me daughter and would talk to he to stop."
The body count this year for women killed at the hands of their spouses, often after years of abuse, is now eleven.
Only two Saturdays ago 36-year-old Donette Ward was stabbed to death by       her 59-year-old husband Geoffrey Ward, who has since been charged with murder.
Around the Web