Yog Mahadeo recently presented a copy of his book about the life of the Maharishi Dayanand Saraswati to the West Demerara Central Arya Samaj.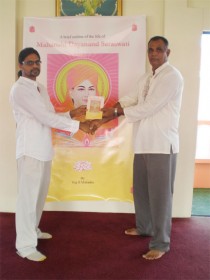 According to a news release, several persons attended the launch at the Vreed-en-Hoop temple. Mahadeo, who is also the Chief Financial Officer of GT&T and Secretary of the Private Sector Commission, said he was inspired by the saint's life, particularly his work on social reform and the establishment of the Arya Samaj.
He recounted many events in the Maharishi's life that have inspired a number of developments worldwide.
The release said the saint is known for starting the revolution that led to the later work of Mahatma Gandhi and the independence of India. Mahadeo also said this "remarkable saint single-handedly fought for the abolishment of the caste system, the liberation of women from social and domestic suppression and the scientific approach to spirituality." The Maharishi also did work to explain the sciences of astrology, astronomy, mathematics, spirituality and the entire scope of human development – in terms of physiological, psychological and spiritual evolution of mankind, the release noted.
The 43-page book is the third edition of the work that was published in 1996. This expanded edition has numerous references to books written by many persons and includes some work by the Maharishi. It is available at bookstores. Mahadeo launched Garland of Pearls, Volume 1 in 2009. The author said he was grateful to many persons, including Brother Dost and Sister Dolly, and his brother Dr V Mahadeo.
Around the Web